Posted by Jack

Although this is an election year, many members of Congress may not be too eager to meet with constituents during their five-week summer recess. Wall Street Journal-NBC News polling out this week showed that only 2% of Americans are very satisfied with our political system, 79% are dissatisfied and 74% of voters believe Congress has been unproductive this year.
And they're right. As of last Wednesday this Congress had enacted only 142 laws, according to Pew Research Center. That's the fewest of any Congress in 20 years. And just 108 of them were substantive pieces of legislation. Pew also found that the House and Senate have been in session for fewer days and hours this year than most sessions of Congress.
Some might ask why, exactly, Congress needs a vacation. It's required by law. The Legislative Reorganization Act of 1970 requires the House and Senate to take a recess for the entire month of August, until after Labor Day.
Members of Congress used to spend much of their time away from Washington holding open forums and town-hall meetings as well as campaigning in public. But those activities have waned. Fewer members hold truly open meetings. Most fill their district schedules with events with business leaders, local and state elected officials, supporters and fundraisers.
Avoiding disaffected voters and the opportunity for unpleasant sound bites has taken precedence over meeting constituents.
RELATED BONUS STORY by Ken Ackerman: What's the best job on earth? Why, of course, to be a Member of the United States Congress.
This week, House Majority Leader Eric Cantor proudly announced the calendar for the new Congress in 2013. Here's the link. Working days for the entire year total 126, leaving 239 days off. This includes virtually the whole month of August, two weeks around Easter/Passover, not a single five-day work week and (God forbid) no weekends.
Members insist, of course, that they accomplish lots during those recesses — or "District work periods" as they call them. And Congressional staff members, to their credit, work extremely hard with plenty of late nights and long hours.
For this, Members of Congress receive an annual salary of $174,000 ($223,500 for the Speaker), and, if the past few years are any guide, they will enact no budget, no regular appropriations bills, nor other key legislation. (That is, the House will pass bills that die in the Senate, Senate-passed bills will die in the House, and occasionally they will agree on naming a Post Office if such things still exist in 2014.) They will, however, take plenty of taxpayer-funded "fact finding trips," hold plenty of showboat hearings, and spend much of their time hawking for campaign contributions.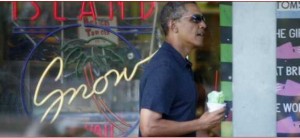 NEXT BONUS STORY: The Obamas have spent over 44 million dollars in taxpayer money on travel and vacations. Some are even calling him the "most well-traveled, expensive" president in our nation's history.
As Americans head off for the long holiday weekend, let's take a look back at some of the president's holiday spending.
Our president vacations a lot — we're talking $44,351,777.12 worth of "a lot," with most expenses charged to the American taxpayer.
As of March 2014, Obama has spent more time traveling internationally than any other president, taking 31 trips since assuming office in 2009. The 119 days spent overseas have cost taxpayers millions of dollars.