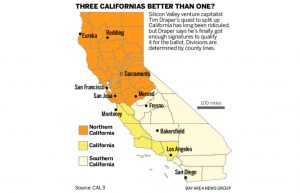 Posted by Tina
The effort to divide California into six states died for want of support so, according to an article in The American Thinker, it's author, Tim Draper, hired a few experts and came up with an alternate 3 state plan, Cal 3. This plan supposedly would divide California along geographic, cultural, and political lines. The only politics involved however are Democrat politics since it would further nullify the votes of the unrepresented in California and secure and solidify at least two more Senators for the Democrats, possibly four! Should Democrats win big in November, a Democrat controlled Congress would love the idea and push for ratification.
There's no question that a great many counties in California are not represented in the current state legislature. (The very reason the nation's electoral college was created.) We in the North State are being governed by a single party whose politics and policies are detrimental to our survival and our values. Those of us who think of the North State as separate from the Bay Area over politic and policy will stick with the Jefferson map, thank you very much.
I want the divorce but I would not support this highly partisan 3 state plan.
Your thoughts?