by Jack
On the anniversary when Israel become a nation, an estimated 35,000 Palestinians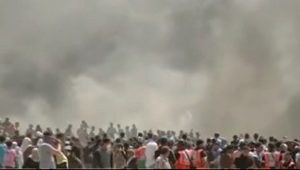 mobilized along the border into Israel.  Then someone announced that the Israelis had just fled their guard posts in one sector.  The mob, eager to seize this opportunity,  surged towards the breach in border.
However, the Israeli guards had not abandoned their posts and upon seeing the angry hoard charging them, they tried to turn them back with tear gas and then with selective gunfire.  Before it was over there were 60 dead and scores wounded.  This including an infant that died from the tear gas.  But why was an infant placed in such a dangerous situation?
A military spokesman said it is common practice for Palestinians to use women and children as human shields.  When the protesters charged the border they had no choice but to defend themselves and the border.
This was not the first time the Palestinians attacked in hopes of creating martyrs and gaining global headlines and it worked, it always works.
A reporter asked one of the protesters, if you had gotten into Israel what did you hope to accomplish?   "Kill Israelis of course!" came the matter of fact answer.