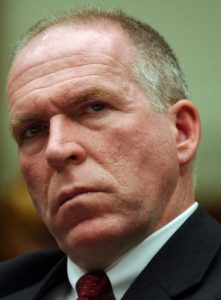 Posted by Tina
Joe Digenova was on Tucker Carlson's show on FOX tonight …video at Gateway Pundit.
Digenova indicated that referrals have been sent to the federal judge in Utah appointed by Inspector General Michael Horowitz involving John Brennen, James Comey, James Clapper and others involved in this spying scandal :
We know that Hillary Clinton was illegally exonerated. We knew that a year ago. We know that there was a substantial effort to frame the current President of the United States with crimes by infiltrating his campaign and then his administration with spies that the FBI had set upon them.

We have learned that the crimes were committed by the FBI, senior members of the Department of Justice, John Brennan, Mr. Clapper, Mr. Comey and others associated with the Democratic Party and Donald Trump and his associates committed no crimes….

Mr. Brennan who loves to make comments… He's going to be in front of a grand jury shortly." …

… On Wednesday, DiGenova shared on Newsmax that he thought Attorney General Jeff Sessions' and Assistant Attorney General Rod Rosenstein's days were numbered.
Hangin for the pop, bubble wise! But there's more…this is on the Hillary email scandal…
Sarah Carter reports, "IG Report on Clinton Investigation "extremely long and thorough"
Criminal referrals on FBI or DOJ officials possible after years-long investigation"
The Department of Justice Inspector General has sent what is described as an "extremely long and thorough draft" of the much anticipated report on the FBI and DOJ's investigation and handling of the Hillary Clinton email probe, this reporter has learned. The detailed report on the FBI's decision making process into the Clinton investigation could lead to possible criminal referrals for some of the officials involved in the case.

Inspector General Michael Horowitz's report, which is expected to be released within the next three to four weeks to the public, has been turned over to current and former officials for review, as first reported in The Wall Street Journal and Washington Post.

The draft, however, does not include any recommendations for criminal prosecution. If there was any evidence collected by the Inspector General's office of criminality, Horowitz would then refer the matter to the Department of Justice and submit a criminal referral to prosecutors.

"It would be up to the Inspector General to make the recommendations but there is an expectation that there will be at least one referral for prosecution," said a source familiar with the findings, who added that it is not conclusive as the Inspector General's office never discusses ongoing investigations.

The report is expected to focus solely on the Clinton investigation and not on the 2016 Russia election meddling investigation, according to sources.
This is all breaking tonight. I'll be busy in the morning so please feel free to update and correct of necessary.