by Jack
Since the first day that Justice Kennedy hinted that he wanted to retire the democrats and their fellow radicals have been in a tizzy. They have been freaking out with fear that Roe V. Wade would be reversed with the next Justice. I don't think this was a question posed to any of the candidates. Trump said he never asked about it.
The picture on left is from the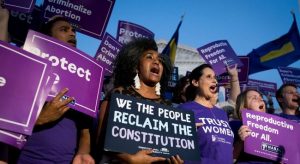 news today and it shows NARAL members in a protest outside the Supreme Court. So, are the libs just creating a red herring to divert attention their way or are they truly concerned? I suspect a its probably a little of both.
I went to their (NARAL) website and I was immediately informed, "7 out of 10 Americans are pro-choice." Really? Then I came across this on another site, "Six in 10 Americans (60 percent), including 61 percent of women, say abortion is "morally wrong." One-third of pro-choice Americans agree (33 percent). In addition, nearly 7 in 10 Americans (68 percent), including 69 percent of women, oppose taxpayer funding of abortion." Wait a just a New York minute. . . I may not be the brightest bulb in the box, but one of these websites must be deliberately lying, they are so far apart!
According to a Gallop poll, the NARAL people are lying. Check this out, it's from the Weekly Standard: "According to the poll, 48 percent of Americans say they are "pro-life," while 45 percent say they are "pro-choice." What's more, opposition to abortion is rather plainly on the rise, as those numbers were effectively flipped ten years ago — and as, in the mid-1990s, the number of people who considered themselves "pro-choice" outpaced the number who considered themselves "pro-life" by about 20 percentage points." How important is polling to the Supreme Court? According to their agreement with the rules, it's not important at all. A populace movement has no bearing. What is important (as far as their solemn duty goes) is determining if a law is in accordance with the U.S. Constitution.