by Jack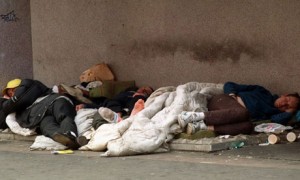 CA democrats fervently pushed for rent control last year, but they failed.  Now it looks like Oregon will actually do it.   It's passed the Oregon senate and the governor said she will sign it.
In large measure this bill came about because of the invasion of homeless, say Oregon's lawmakers.  But, is punishing owners of investment grade property in favor of housing hardcore welfare cases that have migrated to west coast the right way to go?  Liberal Washington, Oregon and California have become magnets for nations homeless because we offer them more than the previous states.  These hardcore homeless haven't migrated here looking for jobs and a way out of poverty- they came here because of the benefits and free stuff.  Giving them more free stuff and more benefits is an insane way to handle the problem.
My prediction is rent control will have a dramatic negative impact on investment in rental property.  That can only lead to shrinking the state's property tax revenue.  This will in turn  put  pressure on the legislators to raise taxes to offset that huge loss.  And in the end, rent control will do absolutely nothing to solve the homeless problem.
History tells us, every time that government seeks to control anything, especially those governed by the laws of supply and demand, it pushes closer to socialism and ruin.  This  whole thing in Oregon is just another fools errand.