I thought I might be in trouble when I turned 18 years old and I had to register for the draft.
I got there 5 minutes after the place closed on my birthday and I knocked on the double glass doors and a lady looked at me from behind a counter and without getting up she shook her head and yelled, "Come back tomorrow." I got there late because I had been with my girlfriend and that seemed to have a  higher  priority than registering for the draft. I thought, "oh, oh, am I in trouble?" but I found out they gave you 10 days to register after your 18th birthday.
I found out years later that a lot of guys never even registered for the draft but I was still in high school and I guess I didn't think I had a choice. I graduated high school the following month. It was summertime in LA and we liked going to the beach to play in the sand and jump in the waves. Time felt like it was standing still and like it would be summertime forever.
Money was tight so I got a job at a factory working the graveyard shift making Styrofoam Christmas ordainments working from 10 PM to 6 AM and then went to my girlfriend's house to sleep during the day. She wanted to get married but even working full time I was making less than 80 dollars a week take home pay. How do you support a family on that? We were always worried about her getting pregnant and every month I was afraid that we were in trouble.
Since I worked nights, I began going to East LA College full time during the days. Naturally after the first semester I found out I in trouble when I was put on academic probation because I wasn't able to keep up my grades. Evidently I had to get at least a "C" average and naturally without studying, I wasn't making it. Basically in high school all you had to do was show up. They actually expected you to study in college! Hmmm… Imagine that?
My mother told me that I better do better the next semester otherwise I'd be in trouble, get suspended from school and I'd get drafted. I remember saying to my mom: "Ah, mom, I don't have to worry about that cause they don 't draft people until they're at least 23 years old." Where'd I get that idea?
Working night's full time made it impossible for me to get good grades going to school full time too if I actually had to study, so I dropped below 12 units, which made me eligible for the draft.
My mom said: "Phil, don't forget, there's a war on now. Do you want to get drafted?"
"Ah, mom, they're not going to draft me. I'm too young."
The following week I received my draft notice telling me to report for induction into the US Armed Forces. I thought, "Oh, oh, I might be in trouble now".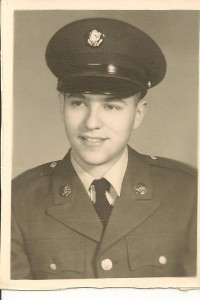 Phil's first couple weeks in the army.
After basic combat training I was glad that I was assigned to combat medics school because I thought that I might actually learn something. Then I was told by our sergeant that quote: "90% of you will be sent to Vietnam and 50% of you will be dead within 3 months." I thought, "Oh oh,  I might be in trouble now."
Somehow or other I made it through Vietnam and I went back to school at Cal State LA and this time school seemed like a cakewalk and I got very good grades and graduated with a BA in Sociology. The draft was still going on and since I grew my hair long and grew a beard, the professors accused me of going to school to keep out of being drafted. And I was actually studying! They wouldn't believe me that I'd already been in the army and to Vietnam so I had to carry around my discharge papers to prove it to them. They were always surprised.
After graduating college I got a job as a social worker at the Seabee base at Port Hueneme, CA, next to Oxnard and near Ventura. My job was counseling troopers and their family. Problem was they all wanted to get out of the Navy – and since they saw me with long hair and a beard, they thought I could help them get out of the Navy – but my job was to keep them in the Navy.  I thought, "Hmmm.. this  might be trouble."
 Phil as a social worker at Port Hueneme, CA.
After working as a social worker at the Navy base and living in Ventura for 3 years, I moved up to Chico to get my master's degree. I got married a lady who didn't appreciate my style and soon I had 3 children and was a single father. Again I thought, "Oh, oh, this might be trouble." But like Zorba the Greek said, "Life is trouble. Only in death is there no trouble." So I guess I was happy to have a little trouble in my life to remind me that I was still alive.