My brother, Richard was 3 years older than I was. And Sandi, the girl who lived across the street from us was a year younger than I was.
Sandi's little brother, Larry, was 5 years younger than I was. We'd all put on our skates and go roller skating on the sidewalks all over our neighborhood and up into the steep hills of City Terrace, which is part of Boyle Heights in East LA.
We'd skate so much that you'd see thousands of little white marks left behind all over the sidewalks everywhere we went made by the steel wheels of our skates which were held onto the leather soles of our shoes and tightened with a heavy skate key that we kept hanging around our necks with a chain and banged against our chest with every movement we made. Eventually the metal wheels would wear so thin that they'd get holes in them.
The skates had to be held very tightly onto our shoes with metal clamps that pinched  the bottom of our shoes (ruining our shoes my mother would say) to keep the skates from coming off. The clamps held onto our shoes so tight that it squeezed and hurt our feet -  otherwise the skates would fall off and we'd fall down on the sidewalk and tear up our hands and our knees or worse yet – according to my father – tear up our jeans which then had to have patches sewed on them.
But that was the last thing we were thinking about. When we had our skates on we felt like we were flying though the neighborhood where we usually had to drudgingly walk to school or wherever we went – but with our skates on – we could go for miles and miles anywhere we wanted to go -  including all the way to Lincoln Park which was several miles away in Lincoln Heights, which was reached by going through the dark and dank freeway underpass and then several miles down the dusty railroad tracks and skate by the spooky factories where we had to be sure not to trip and fall into the muddy creek running along the tracks – or worse yet – but more exciting – the open pit of the lye factory.
The lye factory was an open pit of 5 acres of milk-like lye surrounded by a white wall that was 6 inches thick and 5 foot high which was the perfect height to daringly climb up and walk around with the certain knowledge that if you fell into the lye below, you would never get out. You'd just disintegrate into the lye and never be seen again – but of course, that was the excitement of it – and to do it with your skates on -  that took the ultimate in guts and therefore if you did that -  you were the toughest kid around. So, naturally, my brother Richard had to show us all how it was done.
And then, of course, Richard had to taunt me into trying to do it too. Just taking off my skates and climbing up the 5 foot wall and then putting my skates back on while on top of the wall was the most frightening thing I'd ever done. But trying to skate on top of the wall and not look down at the deep pool of lye down below, was so scary that I was sure I was going have a heart attack at the tender age of 8 years old.
So while my brother Richard skated on the wall, I dropped my skates back to the ground and skipped on the wall while singing "The Witch Doctor" song, "Oo-ee-oo-ah-ah-ting-tang-walla-walla-bing-bang" – mostly to impress Sandi and her little brother Larry. And then I jumped off the wall and promised myself that I'd never do that again especially after the men who worked at the lye factory yelled at us and said, "You'd better get outta here cause we just called the cops" but we felt that since we had our skates on, they'd never catch us.
We heard about kids falling to lye pit and were never seen again but that only made it all the more enticing.
Naturally something like an open pit lye factory would never be left within reach of kids to play around today and that's a good thing – but back in the 1950's – it was kids beware – and if you were crazy enough to fool around the lye factory like we did for fun -  it was your own fault if you fell in.
And I guess that was all part of learning how to fly through Boyle Heights on our skates in the good old days.
We eventually moved out of Boyle Heights and away from the nearby factories and the lye pit — but sometimes I look back and I miss the freedom of putting on the old metal skates, tightening them up good and tight with my skate key and flying free on the sidewalks of City Terrace.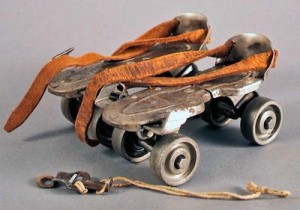 Old fashioned roller skates and the skate key worn around you neck.