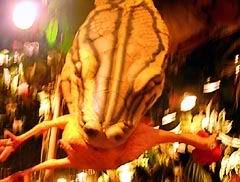 (Chicken gets into trouble at the Rainforest Cafe in San Francisco when he somehow ended up in the mouth of a fake, mechanical boa constrictor).
The garden is looking rather green right now. There are still some dianthus that have survived the summer heat, and a primrose managed to survive the summer and has produced its first bloom. Every morning I like to take a garden walk just five minutes to survey the landscape and pull a noxious weed or two.
It's nice when there is some color.
Every time I go to one of those big-box stores I try to pick up one plant. This season it has been mums. They were beautiful the first week blooming hopefully as if they didn't care that the temperatures were turning toward cold, cold, cold. I put the plants in the ground, one week a yellow, another week lavender, etc.
But then they just conked out. I guess I was wrong that I thought mums bloomed through the winter.
A nice helper at Fostine's nursery explained that the chrysanthemums you buy in a big-box store, and even most nurseries, are forced to bloom and are delivered at their prime. So once you get them home, they're about on their last leg of their blooming journey. I guess it's what it must be like to be a movie star and starring in your last big-budget film.
After a disappointment, the movie star is relegated to bit parts on"CSI" or commercials for prescription drugs.
The gal at Fostine's said that in this area chrysanthemums can be treated as perennials. A gardener should pinch off the dead blooms and keep the plant pinched back until July. Then, the plant should be allowed to grow up to about two feet.
I guess that's not a terrible investment to spend $1.69 on the plant and enjoy it for a few weeks in the garden. But I wish that I had left it on the coffee table inside so I could have enjoyed the bloom more before it petered out.
Right now in garden stores, the pansies and primrose are rolling out. Cyclamen is also a nice winter bloom but again, I've had better luck just enjoying it as a bouquet indoors than being disappointed by planting it outdoors.
There's some more detailed info. about mums online at: http://wwwkingsmums.com/growinf_info.htm.
Chicken Fun
The holidays were swell as usual. We went to my Auntie Jeanne and Uncle Lars' in the Bay Area. It was a bummer that mom came down with some heinous sickness and could not make the trek. My sister had a dying cat (which miraculously did not die) so it was a smaller group than usual.
I'm impressed by my relatives' consistency. They consistently provide a myriad of cheeses, Greek olives, and the usual Thanksgiving fare. They live in one of those "warm-wood" houses with dark hard-wood floors and shelves high up on the wall for which to place candles.
I highly recommend that people consider adopting a mascot. Traveling with rubber chicken has been much fun. The day after Thanksgiving we traveled to the south Bay Area and met up with Dad and Lynda.
Chicken was ready for action.
(This bench sculpture was perfect for a chicken pose. Our rubber hero practically jumped into the arms of these equally unanimated children).
It's fun to have a prop and there were many places in San Francisco to pose the plastic wingless one.
Fisherman's Wharf has many statues outside of the businesses. Outside of a seafood restaurant, two pirate sculptures were ready to grasp the cluckless wonder.
The wax museum also lured us. Tommy sauntered up in front of a rotating lazy Susan holding wax figures of Brad Pitt and Angelina Jolie. As I yelled "home wrecker" at the "Tomb Raider" star, Dad snapped a photo of Tommy holding up the chicken.
Near Ghirardelli Square we found the Rainforest Cafe. This is a Disneyland-esque restaurant decorated in a plastic and papier mache motif. Gorillas grunt along the walkways, surrounded by ferns. Elephants wink their eyes and wag their giant ears. Chicken was well camouflaged along the way. We snapped photos of him in the arms of the chimpanzees and dangling from the flying birds.
Our favorite photo was of chicken in the mouth of a giant boa constrictor.
At Pier 39 we held up the chicken to pose with a dancing family of performers. As we joked around with chicken, Japanese tourists commented on our prop. We heard some say (something excitedly in Japanese) and then point and laugh rubber chicken."
Maybe I'll make a coffee book of the chicken adventures. Madonna had her coffee table book where she posed naked all over the country. That's decidedly not my style, but if her book could sell, so could a book on the adventures of chicken.
(When viewing a rubber chicken in the hand of pirates, it's important to cover one eye with your hand and say "aaaarggghhhh").

(Bob Barker has nothing on chicken. Chicken picks out the best babes to hang out with. Luckily, chickens do not have to worry about sexual harassment suits from mannequins).