Author: Heather Hacking hhacking@chicoer.com @HeatherHacking on Twitter
We're in a drought. I just moved. My new house has a terrible, messy mimosa tree as a primary feature.
Maybe I'll focus on cactus gardening.
A reader named Don Rostimo called a while back and invited me use my shovel in his yard.
In May I wrote (http://goo.gl/gNx8tO) about the gift of cacti from Richard and Suzi Draper and noted the blooms smelled like something "that should be captured and smeared on sheets at luxury hotels."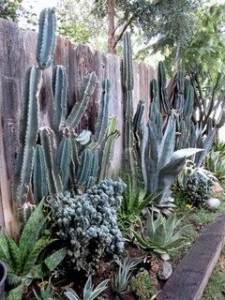 Don said he had some of these night-bloomers, as well as many other prickly plants. I could visit and take my pick.
Whoo boy! Don doesn't just have cactus. He has a cactus fence, a cactus hedge and cactus overflowing into the driveway. He's quite proud of them, as well he should be.
As these things tend to go, Don started out with small plants, which grew and multiplied.
Building prickly fence
Over time the collection of cacti has grown. Each time I visit my Auntie Pat in Baja, Mexico, I bring back a prickly specimen in my suitcase.
If we California was experiencing a "normal" year, I would be gung-ho on creating my own version of "lush landscaping." Those fun times will need to wait until Gov. Brown lifts the drought emergency.
In the meantime, I have three excellent, rusted wheelbarrows that readers relinquished to my care more than a year ago.
They were fine yard ornaments at the old house, but in the new house I might as well put them to new use.
When in drought

This brings me to Claude Geffray, the cactus king extraordinaire who sells those perpetually blooming small cacti at the Thursday and Saturday farmers markets.
Claude has a strong following among Chico plant-lovers and has been growing plants by the hundreds for 25 years.
Apparently my ideas are nowhere near novel, and many people have turned to cactus during the drought, Claude confirmed.
Some of his customers have torn out their lawns and have purchased the drought-tolerant beauties. Others have created a cactus garden in just a portion of their lawn.
Claude said my wheelbarrow idea was a good one.
Cactus still needs water, but perhaps only every two weeks to shine. They'll survive with next-to-nothing precipitation, but will look tired and cranky.
Inside they need even less water, perhaps a squirt every 4-5 weeks.
Claude said many of the plants he sells at market need to be brought indoors for the winter, because they can't tolerate our relatively cold winters.
However, he invited me to the growing grounds where he has several varieties of plants that can, and do, survive outdoors year-round.
His yard is amazingly beautiful, in the stark and beautiful way my father always points out when we travel across the Sonoran Desert.
Cactus are a living contradiction – smooth, succulent flesh dotted with dangerous hair-like daggers. Claude has quite the variety, some with grotesque curvature, others with upright nobility.
As for planting, particularly in a wheelbarrow, Claude suggested mixing about 40 percent rich soil, and 60 percent "gritty stuff," such as sand, pumice perlite and volcanic rock. The point is to create good drainage.
If in doubt, Claude sells cactus soil he mixes himself.
You can also follow Geffray's Gardens on Facebook, and check out his website at: http://creativecacti.com
For a short video tour of Don's yard: http://www.tout.com/m/4i5k7t
To check out Claude's glorious gardens: