By Heather Hacking, Chico Enterprise-Record
12/18/14
The surviving peppers aren't exactly ornaments, but they're kind of festive. Heather Hacking — Enterprise-Record
I live in the house without a Christmas tree.
Some of you might remember the "made-for-TV" movie about a little girl who has a curmudgeon for a father. He's bummed about life and denies his little girl the most basic of holiday pleasures. Over the course of the two-hour drama, Dad's frozen heart melts and a tree is sacrificed for familial happiness.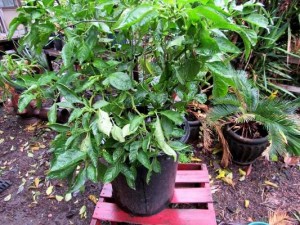 In my case, my house is so small that if a large conifer was added to the mix, I wouldn't be able to watch TV.
A four-foot tree was one consideration. If I put the table lamp in the shed, I could prop a wee tree on the bookshelf. Yet, I need that space to dump my purse and keys when I walk through the door.
One year — during the dark, single years — I bought myself a potted rosemary Christmas tree. Looking back, that tree made me sad because I was the only one to see it. Now it's in the ground, and it still makes me sad.
This week I had a short conversation with a significant friend, who has Grinch-like tendencies. He argued that Christmas trees are the least best use of renewable resources.
He prefers to buy live Christmas trees, which he plants in the yard. I have visited his home and it looks like he could now open his own Christmas tree farm.
Before Christmas trees are harvested for our temporary, indoor enjoyment, they help to provide oxygen to the planet, I said, quoting propaganda from the National Christmas Tree Association.
He pointed out that most holiday trees are trucked from Washington and Oregon, therefore adding to the holiday carbon footprint.
Harrumph.
I've amassed ornaments since 1969 and have hauled those boxes to umpteen different residences. I wrap them carefully and handle them with care. They take up space in my small house 11 months of the year. I AM going to put them up in my house. They WILL remain visible through the Chinese New Year — Feb. 19.


My beau was napping when I ventured into the "Christmas treasure chest." I should have asked for help, because lifting the ginormous TV from the top of the chest was not doctor recommended.
Inside I found the very important elf and Santa hats, childhood Christmas stocking and oodles of ornaments.
Why did I start buying miniature ceramic houses topped with snow? Did I think I would be moving to a larger house?
With the stealth of a rhinoceros, I tried not to wake my man as I detangled the 50-foot string of white holiday lights and pinned them in a haphazard mess around the living room.
When my guy woke up, I could tell the lights were tingling his Christmas spirit.
Together we cooked up a grand plan.
The pepper plant near the front porch is still producing peppers and has not yet been hit by frost.

A NEW KIND OF HOLIDAY HANGER
My friend Mike Morgenroth, who died in October, taught me about bringing peppers inside for the winter. Technically many perennial plants are treated like annuals because they die once a bitter frost comes along. However, if you bring peppers, eggplant, basil and tomatoes inside, they might just make it through the winter.
Mike had suggested an enclosed patio, because all plants need light from the sun.
My surviving pepper plant is about four feet tall and is already adorned with peppers. Some of the lights could easily be yanked from the wall and wrapped around the tree.
The soil in the 15-gallon bucket is soaked right now. The plan is that after it stops raining, I'll let the plant dry and drag it indoors. Keeping the plant alive will be a good excuse to keep the ornaments on display.