I remember driving my 50 Chevy on my way to pick up my girlfriend early one morning to get us to Wilson High School without being tardy when The Beatles song, "From Me to You" came on the radio and I felt this sense of excitement shoot through my body like a bolt of lighting.
I thought to myself, "There's the sound I've been waiting for!" I could feel my heart beating with inspiration and passion.
As I pulled up to my girlfriends house I couldn't get myself to turn off the radio before I heard the DJ say who sang that song. Getting to my first period class on time suddenly wasn't important. When I heard it was The Beatles, I promised myself I'd go out and get that record as soon as school was out for the day.
The Beatles were not only a musical but also a global cultural phenomenon influencing everything including the hippie movement and the sexual revolution that promoted free love.
The Beatles influence on rock music and popular culture was, and remains to this day, immense. Their commercial success started an almost immediate wave of changes—including a shift from US global dominance of  rock and roll to UK acts, from soloists to groups, from professional songwriters to self-penned songs, and to changes in fashion. It was called The British Invasion.
The Beatles were influenced by black music, notably by rock and roll and rock and roll musicians like Chuck Berry, Roy Orbison, Isley Brothers, and the "King of rock" Elvis Presley (surprisingly it was a white man who was dubbed the King of rock and roll).
Prior to The Beatles' influence, records albums were of secondary consideration to singles ("45s") in mass marketing. Albums contained largely "filler" material (unexceptional songs) along with one or two hits. The Beatles rarely incorporated singles as part of their albums, thus defining the albums as more important. Back then people knew the name of the song and not the name of the artist. The Beatles changed all that.
And the Beatles films, "A Hard Day's Night" (1964) and "Help!" (1965)and the revolutionary camera techniques together with short lines of dialogue and rapid editing cuts to the beat were all seen as the precursor to the modern rock video.
The Beatles were the first entertainment act to stage a large stadium concert. At Shea Stadium, New York City on Sunday, 15 August 1965 the group opened their 1965 North American tour to a record audience of 55,600. The event sold out in 17 minutes. It was the first concert to be held at a major outdoor stadium and set records for attendance and revenue generation, demonstrating that outdoor concerts on a large scale could be successful and profitable. The Beatles returned to Shea for a very successful encore in August 1966.
The Beatles electrified culture so much that it became known as Beatlemania. Theiy style including The Beatle haircut, also known as the mop-top because so popular that it was widely imitated worldwide between 1964 and 1966.
Their hair-style led toy manufacturers to begin producing real-hair and plastic "Beatle Wigs".In late 1961. Paul McCartney said in a 1979 radio interview: "We saw a guy in Hamburg whose hair we liked. John and I were hitchhiking to Paris. We asked him to cut our hair like he cut his."
George Harrison explained in a 60s interview that it was John and I having our hair cut in Paris which prompted him to do the same.
Up until the Beatles hair style became popular, men's hair was kept so short that in 1963 I was kicked out of school and sent to a barber shop because my hair was maybe an inch and a half long. I remember going to a barber shop and seeing his sign placed right across from the barber chair saying: "Doctors recommend getting a hair cut every 10 days for sanitary reasons."
Soon after that my English teacher sent me to the princapal's office and the princiapl took me to the bathroom and handed me a razor because evidently I needed to shave but I hadn't even begun to shave yet. I had no idea what I was doing but I had to learn to shave right there and then.
Nowadays nobody thinks anything of long hair or a beard on a man but back then it was seen as an act of rebellion.
During the psychedelic era of 1967-1968, The Beatles popularised bright colors, and wore paisley suits and shirts and pants with floral patterns. The Beatles also popularised Indian-influenced fashions such as collarless shirts and sandals.
By the late 1960s, The Beatles had adopted trends toward more casual fashions, with t-shirts, blue jeans, and denim jackets. Lennon also popularised wearing solid white suits, reflecting an interest in minimalist design that also influenced the cover of the album "The Beatles". This mixture of casual wear and unconventional formal clothing could be seen in The Beatles' later years as they grew beards and drifted towards more hippie and Indian clothing including Chelsea boots (with the addition of Cuban heels) that were soon called Beatle Boots.
Unlike most artists and musical groups of even today, The Beatles music covers everything from pop to rock and roll to blues and experimental avant guard music. From vocal harmonies to playful country solo songs sung by Ringo. They were one of the first acts to do their own music and the excitement they expressed in their sound was electrifying. They became the de facto leaders of the global youth culture. They influenced everything from fashion to education. From social thought to political ideas and action.
To this day, I don't think anybody comes close to doing what The Beatles did musically or any other way. I call them the gods of music but they influenced a lot more than music. As far as I'm concerned, The Beatles sparked "The 60's."
I was heartbroken when The Beatles broke up in 1970. I thought I heard the news wrong. What?! How could that be?
The Beatles were probably the most important influence on me changing from being a who I was as a cholo to becoming part of the global phenomenon that was set to change the values of society from selfishness to cooperation. It felt like the most exciting, invigorating, dynamic time of my life. "Here we go. Now life is going to be a whole lot better for everybody!" I thought to myself – but instead today we have Tea Party Republicans who just want to make sure they get theirs and couldn't care less about anything else, the direct antithesis of what The Beatles represented to me at the time.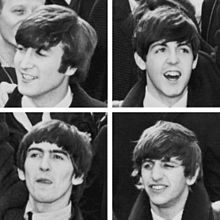 John, Paul, George and Ringo, 1965