I had just gotten back from a year in Vietnam and my uncle Monty picked up and at the airport in San Francisco and said, "You gotta see this." He took me to Haight Ashbury, the zenith of the hippie movement. We walked up and down the streets for a half hour with me in my army uniform and my eyes bulging out in disbelief. Young people were sitting on the sidewalk, singing and chanting and eating and smoking pot and dancing and some of them hardly had any clothes on. I wasn't exactly sure what I was seeing or if I could believe my eyes but I felt a sudden surge of excitement going right through my body. I wanted to get back into Uncle Monty's car and wanted to run from Monty at the same time and tear off my army uniform and join the hippies.
But who were these hippies? Were these the people I've always dreamed about who might come to rescue us — rescue me — from going down that lonesome road of selfishness and caring only about ourselves? Have they come now to show us a new way of life where we work together in a society of cooperation? I mean they were saying: "Hey, brother, what you doing in that uniform? Why don't you come join us?" Were they serious? "Come on now, look at this beautiful young lady who'd love to be with you right now. You know you want to join us." Could they be serious?
"Peace, brother, peace." they kept saying to me as I walked quickly by and that lovely, long haired girl kept saying: "Make love, not war." as she held her hand out to me. Did she really mean that?
Monty drove us back to his house and put me up in his basement. Could I go find that beautiful girl again who asked me to be with her? Hey, I'm willing. I got out of my uniform, shoved it back into my duffle bag and got ready to leave.
"You want to go with me tomorrow to see about getting a job selling insurance like I do, Phil?"
"Ah, gee, thank you, Monty, that's a nice offer but I think I'm ready to go see my mom and dad and make up for lost time. I've been away a long time. Maybe I'll come back up here after a while and think about that though."
"Well, now's a good time if you're interested. I'm in pretty good with the boss and could probably get you a job right away. Might be a good idea to wear your uniform tomorrow morning."
"Ah, well, thank you, Monty but I gotta go home and visit my folks before I do anything else. I'll be leaving in the morning. You think you can give me a ride to the airport?"
"Well, tomorrow's a busy day for me. I might be able to give you a ride Monday morning but I'm pretty busy for the next few days."
"But today's only Thursday!"
"Well, you can come to work with me tomorrow and see how you like it until then. What do you say?"
Next morning I was up and out the door by 5 AM carrying my duffle bag without even saying goodbye to Monty, his wife or to her mother who also lived with them. I asked the first person I saw on the street how to get to the airport. He said to catch the streetcar to the Greyhound Station and take the Greyhound to the airport. I asked  him how to get back to Haight Ashbury. He told me it was several miles in the opposite direction. I walked carrying bags to the streetcar and a few hours later I was being picked up by my parents at LAX.
"Man, it sure feels good to be home. It feels funny to not have to worry about snipers and booby traps now. It does seem a little strange to see how the  hippies wear the wide bell bottom pants that kinda looks like what the Vietnamese wear, not to mention everything else that's weird about the hippies. Are there hippies in LA?"
"Oh, yeah, they're all over the place. Dad likes to go to the beach and watch the girls skinny-dipping at Venice Beach."
"Yeah? Really? Hey, that sounds like fun."
"Yeah, nice to see young people enjoying themselves like nature intended." my dad answered with a smile.
"Yeah, that's what nature intended, huh? Going around and showing the world your naked body?" my mom asked as she gave my dad a look of disapproval.
I guess not everything had changed after all.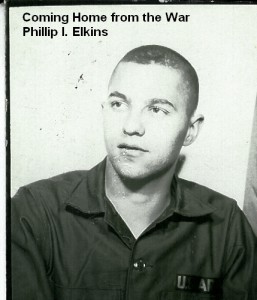 Part 2 coming up