It's been a long time since I've thought about the Muppets. OK. Close your eyes and imagine them. Of course Kermie and Miss Piggy come up first in our minds. The loveable and nature-loving frog and his materialistic and overly-pink, pampered girlfriend, not to mention jealous, prone-to-violence and narcissistic.
The Muppet Show debuted in the mid '70s. I was seven years old, fresh off of Sesame Street, and suddenly there was a prime-time show that helped bond parent and kid with silly antics and actually really good songs.
When I did an informal poll of my girlfriends at work, most said their most memorable character was Kermit. One writer said she used to get tears in her eyes when she would hear the lyrics: "Why are there so many, songs about rainbows."
Plus, Kermit is so cool contemplating his navel and being the first frog to ride a bicycle.

Frank Oz was a pioneer of puppetry. Before he was the man behind Yoda, before those Rambo-esque marionettes from "Team America," Frank brought us the mostly-innocent Muppets.
We had a barbecue last weekend. I had an itch to be social and Tommy agreed we could have a barbecue.
Julie and Pat had said they would bring musical instruments and maybe an amplifier. Alas, they did not follow through. Perhaps they didn't want to burden us with the fact that they both just started to learn how to play.
Bummed, I pointed Julie in the direction of a cheap guitar hanging on some nails in the living room and an ancient tambourine.
I like to have instruments around the house just in case Neil Diamond decides to make an appearance or someone wants to impersonate "Josie and the Pussycats." If there are more than two amateur, wanna-be musicians around I can conjure up some vitamin bottles for people to shake for the percussion section.
Throw in a cowbell and suddenly you're the house band on "American Idol."
Growing up as a kid we always had this weird wooden armadillo Gram bought in Guatemala. We had it in a corner of the living room and when someone felt musical we would fish out a chopstick and one or the other of us would accompany my mother on the autoharp.
Julie reiterated that she was just learning to play, but she did know one song she had learned to play for her sons class.
"Why are there so many, songs about rainbows …"
About four of us hovered around the front porch, with the Christmas tree lights strung up along the canopy over our patio.
We warbled and hummed, …."rainbows have nothing to hide."
Then, invariably, we started talking about the Muppets.
Most of us have warm memories of Kermit.
But what of all those lessor stars of felt and cotton fiber?
Animal the drummer of the Muppets band. He would be invited to any one of my parties if he had a chaperone. If only we all had that energy and could channel it.



Zoot that Muppet who played the saxophone and wore that cool gray Stetson hat. I kinda had a crush on that guy, if a 10-year-old can have a crush on a Muppet.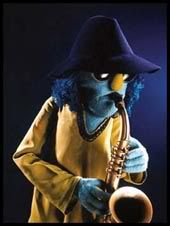 My co-worker Michelle fondly remembers "Chef," the guy who spoke Swedish. She said recently that her step-dad had a Swedish accent, so the fact that she was introduced to "Chef" before her mother married the Swede, she was more prone to like the new father-figure.
Sadly, as I press forward towards age 40, more and more of my guy friends have started to look like Fozzie Bear.
For a really silly test on finding out which Muppet best fits your personality, go to: http://www.matthewbarr.co.uk/muppets/
Lyrics to Rainbow connection?
Why are there so many
Songs about rainbows
And whats on the other side?
Rainbows are visions
Theyre only illusions
And rainbows have nothing to hide
So weve been told and some chose to
Believe it
But I know theyre wrong wait and see
Someday well find it
The rainbow connection
The lovers, the dreamers and me
Who said that every wish
Would be heard and answered?
When wished on the morning star
Somebody thought of that
And someone believed it
And look what its done so far
Whats so amazing
That keeps us star gazing
What so we think we might see
Someday well find it
That rainbow connection
The lovers the dreamers and me
All of us under its spell
We know that its probably magic
Have you been half asleep
And have you heard voices
Ive heard them calling my name
Are these the sweet sounds that called
The young sailors?
I think theyre one and the same
Ive heard it too many times to ignore it
Theres something that Im supposed to be
Someday well find it
The rainbow connection
The lovers, the dreamers and me