In my previous post, "Air Service in Chico – Preserve", I stressed the importance of retaining the flights we already have to San Francisco.
Essential to retaining that service, and with some luck getting United to add frequency to San Francisco, is taking steps to actively promote the existing service.
First, three anecdotes that comprise my purely personal experience about the promotion of Chico air service since I moved to Chico in 1998.
– I have never once in 15 years seen an advertisement in the Enterprise-Record or the News & Review by United Airlines (I don't watch TV or listen to local commercial radio so maybe they've run ads there.)
– I have never once in 15 years seen a local event where United Airlines donated tickets to a drawing or fundraiser
– When I was the marketing director for the Chico Running Club's two big events between 2001 and 2006, I approached United Airlines about contributing tickets to a raffle of travel prizes for the Bidwell Classic Half Marathon.  I never received a reply, not even to say "no".  Hearing nothing from the only airline serving Chico, I contacted Horizon Air which then served Redding, and they quickly agreed.  For many years they continued to support the race by contributing two tickets to the raffle drawing.  (That was the closest in the past 15 years that Chico came to seeing another airline: I hung a Horizon Air banner near the finish line to say thanks.  See photo at end of this post.)
Now maybe readers can comment back and cite some examples where the airline did advertise its service or contributed travel to a local fundraiser or event, but even so the instances must have been few and far between.
The result is air service that is as close to invisible as it can be.  If you know about it, great, you're part of the club.  If you don't, well then you may think that the closest commercial airport is Sacramento.
Some readers may laugh, but I have encountered people who didn't even know you could fly from Chico.  I'm not kidding.
One of the biggest pools of potential fliers is also the one that is least likely to know that Chico even has an airport: Chico State students (and their parents).  If they're not from the Central Valley or the Bay Area, then they are likely to consider flying home instead of driving or using Amtrak.  But they need to be aware that we do have commercial air service here, or they'll automatically fly from Sacramento.
What can we do?
It's pretty basic but the airport needs a more robust web presence, a Facebook page, and a Twitter account.  To be accurate, there is an airport page on the City's website but it really isn't set up for promoting the service.  FlyChico.com is taken by a squatter, but among the freely available sites are FlyChico.gov, FlyChico.org, FlyChico.net, FlyChico.biz, or FlyCIC.com.
Of course these are just basic tools – it's what we build with them that matters.
What follows is a short list from my own musing.  It isn't by any stretch meant to be comprehensive.  We need to get clever people in a room to come up with cool approaches to fill these planes.  If you have ideas of your own by all means comment back.
The ideas that follow all have dependencies, to use business jargon, mostly involving United Airlines/SkyWest or local business, but they should be pretty obvious based on what the idea is.  Some are aimed at locally originating traffic from Chico, and some are aimed at externally originating traffic to Chico but most of them could appeal to either group.
Because of the City of Chico's present poor financial state, we must assume that the City has no money at its disposal to contribute to these measures.  The emphasis should be on efforts that are free or low-cost, and supported by the local business community.  Other than seeking "soft dollar" free tickets from United for promotional purposes, I think it is a safe bet that no cash would be forthcoming from United Airlines or SkyWest Airlines.
– Fare of the month: once a month United publishes an exceptional deal from Chico to one destination for a limited purchase window which is announced via the website, Facebook, and Twitter
– Save your boarding passes and win: United holds a quarterly drawing for free tickets for all passengers who have flown out of Chico
– Everyone who flies from Chico's a winner: on one Chico-San Francisco once a month, every passenger gets a $100 electronic certificate to apply to future travel from or to Chico
- Fly Chico Passport – an array of deals offered by local merchants, restaurants, and entertainment venues is published in a passport-like folder.  This would require presentation of a boarding pass dated within one week of the date used or perhaps the passport is simply date-stamped by SkyWest or a volunteer greeter at the airport.
– On board prize drawings – flight attendants conduct a free drawing on random inbound flights to Chico for prizes donated by local businesses
– Olive oil flies free: allow passengers to check a box of olive oil without paying a checked bag fee.  Horizon Air initiated this for one case of wine when they began service to Santa Rosa in '07 and it has been very successful.  They have since extended the policy it to Walla Walla, Wash.  Our region is rapidly becoming the Napa/Sonoma of California olive oil – what better way to promote the service to fly-in visitors than by letting them ship a box of olive oil home from the local airport for free.
– University: I don't know what would work best to reach Chico State students.  Perhaps the College of Business could have a contest among its marketing students to design an effective low-cost or no-cost Fly Chico campaign to reach their peers.
– Chico's business community: A key to success is getting more business travelers to fly out of Chico.  Successfully addressing the reliability issue discussed in earlier posts is a big factor, but there's more to it than that.  Beyond promotions that provide incentives to individual travelers – leisure or business – what else would help to reach businesses with employees who travel for their work?
Would these and other promotional efforts be successful?  I don't know,  but what I am certain of is that air service at the Chico airport has far too low a profile.  I also know that if we put some energy into this that United Airlines and SkyWest will take notice.  Will they grant us three wishes for anything we want?  No, but it will be clear that we are working hard to keep the existing service to San Francisco and make it thrive.
And only if it thrives is there any hope of progress in our next goal: expanding the service.
Air Service in Chico – navigational links
Previous post: Preserve
Next post: Emergency, Emergency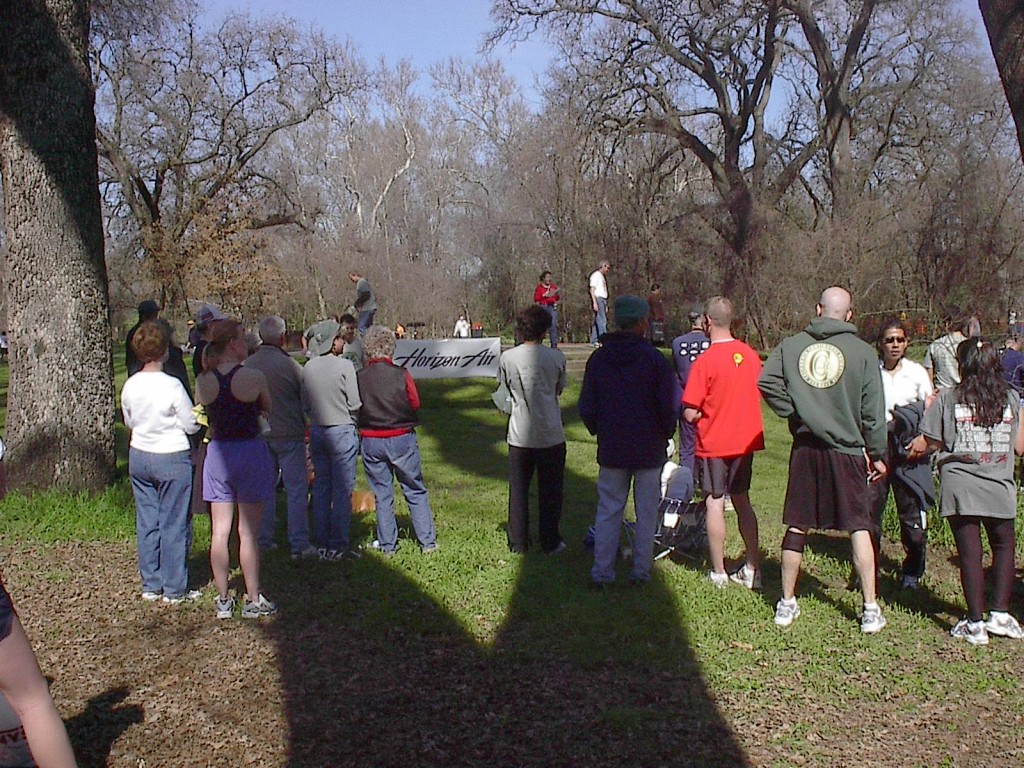 Horizon Air at Sycamore Field at One Mile at the Bidwell Classic '04