ALAMEDA, CALIF. CITY HALL
Have you ever been to Alameda?
Bet you haven't!
Do you know where it is?
Bet you don't!
Should you pay it a visit?
You bet!
I'm writing a two-installment post about Alameda. Part 1 concerns the place generally, while Part 2 (in a few days) will be devoted to the western side of the city focusing on the former Alameda Naval Air Station.

I'm a native of the Bay Area (San Jose area) and lived in the East Bay (Oakland and Richmond) for more than eight years before moving to Chico, but first saw Alameda in the early 90s only because I belonged to a running club that had a monthly run there.
Being from the Bay Area I at least knew the name of the city and had a dim awareness of where it was (somewhere near Oakland) but that was about it. Keep in mind that I'm a guy who is very map and place oriented so if I was this ignorant of Alameda then it stands to reason that lesser mortals were really in the dark.
But over recent years I've gotten to know the place well, and I can say with confidence that if life ever brought me back to the Bay Area that this would be the place I'd pick to live.
First and foremost, it's important to realize that Alameda is an island and it takes that status seriously.
It didn't start out that way. When Europeans first came to the San Francisco Bay Area it was a peninsula but in 1902 the estuary between Oakland and Alameda was extended to San Leandro Bay cutting off dry land access between the two cities. Alameda is now connected to Oakland via several bridges and well as the two-bore Posey Tube under the estuary linking the Webster Street/west side of the island with downtown Oakland.
In the late 19th and early 20th centuries Alameda became a water and rail shipping center. It was well-connected with Oakland by streetcars and interurban-type rail systems plus it enjoyed ferry service to San Francisco. (The ferry service to San Francisco lives again and thrives. More about that in the second post.)
In the streetcar era, small neighborhood business districts of no more than a block or two grew up around the stations. The streetcars are long gone but these little commercial areas have survived. Many offer nearby residents the opportunity to avoid driving because there just might be a small market, hardware store, or coffeehouse down the street from where they live. Call it the old "new urbanism", if you like.
For instance, the coffeehouse where I spend an inordinate amount of time when I'm in Alameda (and where I'm composing this now) is located in the High Street Station area at the intersection of two arterials: High Street and Encinal Avenue. Furthermore a relatively good size independent market (Encinal Shopping Center) is across the street from the coffeehouse, along with a couple of restaurants and other businesses.
HIGH STREET STATION NEIGHBORHOOD BUSINESS DISTRICT
CROSSTOWN COFFEEHOUSE
Here's a shameless plug for the Crosstown Coffeehouse . (No, I didn't get any compensation for this – not even a free cup of coffee!) Its mission is both to caffeinate the neighborhood and serve as a community meeting place. Don't be surprised on Fridays around 10:30 a.m. if you are surrounded by the age-5-and-under-set for the Cowboy Jared show and sing-along. Groups large and small use it for meetings, both social and commercial. Naturally there is free Wifi so it functions as an office for the officeless businessperson. It's a great place and my home away from home when I'm in the area. Looking for an East Bay hangout? Drop in, buy a latt and tell Faith or Deb that I sent you so I can collect that commission they promised me. Oops.
(July 2009 – Ed. note. Sad epilogue to Crosstown – it's no more.)
Over the years I've heard Alameda referred to as "Iowa by the Bay". It may have been meant as an insult, a compliment or something neutral that simply conjured up its small town feel. In any case it does have a small town feel even though it's in a large metropolitan region. That's part of its appeal Alameda is slightly smaller in population than Chico (2000 census about 72,000) and definitely more compact in size being an island, but there is a similar feel. Both cities have a pretty fierce politics that produces a thicket of lawn signs around elections. But like Chico the strong feelings are proof that people care about their city, even if they disagree on the problems and the solutions.
Alameda's small town feeling is not insular, at least not anymore. The Grover's Corners feeling is blended with what I love about the Bay Area: tremendous diversity that results in great ethnic restaurants of every stripe. I'm a regular at (Chinese) Van Seng (2522 Santa Clara Ave.). If you like spicy then get L14, the bean curd with string beans. Japanese, Mexican, Cuban, Thai, Middle Eastern, Vietnamese, German, you name it – it's here along with the all-American and super-popular Ole's Waffle Shop and Jim's Coffee Shop. The one thing that doesn't exist in Alameda that I think would be very successful is a local brewery. They've got a great winery and even a well-known distillery (more about both in the second Alameda installment) but lack a local brewpub.
BASIC MAP OF ALAMEDA (Googlemaps)
Part of what makes Alameda so special is its great walkable (and runnable and bikeable) neighborhoods. Keep in mind that the island is very flat and thus perfect for exploring on foot or bike.
The two busiest streets (and home to the two main business areas other than the South Shore Mall) are Park Street in the east and Webster Street in the west. Commercially, Park Street is by far the more substantial of the two. I've seen Park Street transformed since 1990 into a real hub of commerce, attractive enough to lure a Peet's and Starbucks that duke it out across from each other at the same intersection. The Webster Street business district historically served the the former Alameda Naval Air Station and surrounding neighborhoods. It was somewhat seedy and then when the base closed in the 90s it really suffered. However a recent street makeover and many new businesses portend a vibrant future.
Park and Webster run more or less north to south. The east-west arterials are Encinal, Santa Clara and Central but none of these are the churning, fast traffic nightmares you'll find in adjacent Oakland or for that matter in Chico (Mangrove, Nord, Cohasset, East, etc.) This is attributable to Alameda's good fortune in not being a place you drive through to get somewhere else. That means no freeways or any other true highways that cut through the island. Yet even with traffic moving at a normal pace, the savvy Oaklander knows that sometimes a trip to the Oakland Airport is easier via Alameda when 880 is a parking lot.
Did I mention how great the weather is here? The East Bay has superb weather pretty much anytime and Alameda in summer is a couple of degrees cooler than Oakland owing to its location right on the bay.
Do you like architecture? Do you enjoy roaming around looking at old houses and neighborhoods in the context of a very much alive and working city? If yes, then you will love Alameda. I'm going to close with pictures which provide a taste of the terrific array of building styles you can see when you pay Alameda a visit. I repeat that Alameda is very easy to explore whether on foot, on a bike, in a car, on a bus or some combination of all modes.
Part 2 about the west end of the island and the former Alameda Naval Air Station will come in a few days.
VICTORIAN – 1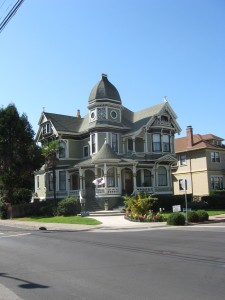 VICTORIAN – 2
VICTORIAN – 3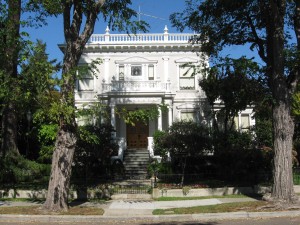 CRAFTSMAN (right next door to the Victorian above)
CORNER BUNGALOW
BUNGALOW COURT
PASTEL COTTAGES SIDE-BY-SIDE
SPANISH REVIVAL (I think)
A TYPICAL LEAFY STREET
PARK STREET AT SANTA CLARA AVENUE