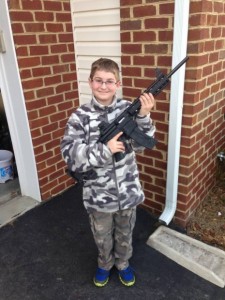 Posted by Tina
The Blaze reports a case involving gross government overreach based on an anonymous busybody call:
The young man in the photo is the 11-yr-old son of Shawn Moore. The gun is a .22 rifle, a copy of the AR-15, but a 22 caliber. The photo was posted on Facebook by a proud father. That Facebook posting apparently triggered an anonymous call to New Jersey's Department of Youth and Family Services (DYFS). On Friday night, March 15th, two representatives from the state's social services office (along with four local police officers) came to the Moore home and demanded to see the family's firearms.
According to Moore's lawyer, Evan Nappen (an attorney with considerable expertise in NJ's very strict gun laws), the situation was "outrageous."

Here's what Moore alleges on the Delaware open carry forum:

•NJ's Department of Youth and Family Services (DYFS) came to his home, accompanied by police officers. They claimed to be responding to a call about a photo of a young boy holding a firearm. (photo above)

•Without a search warrant, DYFS demanded entry into Moore's home and access to all of his firearms. Moore was not initially there, but his wife called him.

•With his lawyer listening to the exchange on the phone with police and DFYS, Moore denied entry to his home and access to his safe where he stores his guns.

•When Moore requested the name of the DFYS representative, she refused to give it to him.

•After threatening to "take my kids," the police and Family Services worker left — "empty handed and seeing nothing."
I heard on Fox Business this morning that the boys father is a trainer in weapons use and safety.
So what do you think? Did the anonymous caller react too strongly? Were the authorities over the top with their pushy demands? Is this a case of liberal's stomping on the rights of responsible gun owners due to their emotional reactions to unassociated criminal acts?