by Tina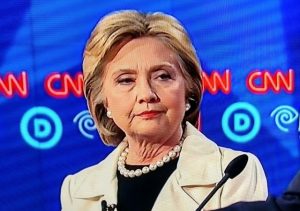 Hillary is either pathological or evil or both. Today she's blaming Trump and his supporters for starting the birther movement. The truth about the birther movement is that it started in her 2008 campaign when she was running against President Obama. In April of 2008 an anonymous email was circulated by supporters of Hillary Clinton, according to the Telegraph.
As for his part Donald Trump was asked about it in March on ABC and his response was, "The reason I have a little doubt — just a little — is because he grew up and nobody knew him," he told ABC News.
Wow…a "little doubt." Damning right? Well, maybe not.
Let's revisit what was going on during the race between Obama and Clinton in that contentious race in 2008.
"It was raised this weekend, I guess we have to get our digs in on Hillary Clinton here, because I thought we were going to get through a segment without talking about her, Scarborough said Monday. "But for Hillary Clinton to come out and criticize anybody for spreading the rumors about Barack Obama [being a Muslim], when it all started with her and her campaign passing things around in the Democratic primary, is rich."

"The Republicans are wrong for doing what they're doing," Scarborough said. "This started with Hillary Clinton and it was spread by the Clinton team back in 2008. That is the truth."
This issue was never discussed on Post Scripts until one of our commenters, a lefty, brought it up. And because we were honest, and willing to discuss the possibility and what it would mean for the country, we were labeled "racist." This is a game the left plays. They set the trap and then attempt to label the opposition with a negative. My own interest in the subject initially had to do with what it would mean to our nation since by that time Obama had already signed legislation into law. But it also became a curiosity when forensic examination of the original certificate raised questions about it being altered. See more here.
Imagine that this information was about someone else and was being broadcast on one of those shows that portend to solve mysteries. Would you find it curious and compelling? Would it raise a smidgen of doubt? Ultimately, if it didn't change anything would it become an obsession? Of course not. Some questions or mysteries are never solved absolutely, even when the evidence is quite compelling. Take the information James Commey revealed to the public about the emails Hillary Clinton tried to hide from the public. His opening statement was damning. Everyone thought he was going to recommend indictment, and yet, he did not.
The frustrating thing about being called a racist when you've done nothing to demonstrate that you are, when all you have done is honestly engage in discussion about theories and information as presented, is there is no way to undo the charge…especially on the internet. The irresponsible use of this charge makes it even more disgusting when you consider very real and damaging cases of racism are diminished by such specious claims.
There's quite a bit of evidence to suggest Hillary Clinton is deceitful, lacking in sound judgement, negligent, sloppy, careless, and a liar. Another layer of her deceitfulness was added today when we learned she didn't merely wipe her server "with a cloth," as she asserted when questioned by congress, but with very sophisticated software, Bleachbits, to erase her server. This isn't "just for casual, quickie deletes of junk mail. It's for when a user really wants to destroy material on a computer so that no one will be able to recover it." Guess she's not as tech challenged as she attempted to look when she snarked, "with a cloth?"
It's quite clear that Hillary Clinton will do any dirty rotten thing to win the presidency. She did it when she ran against Obama in 08 and she's doing it again. Her problem is she does not have a good record of service and her record as a person isn't all that great either. Her negatives far outweigh her ideas for our future, which are simply more of the failed policies of the last eight years. Making false claims about her opponents threaten her desperate designs to acquire power and that's the only arrow in her quiver. Hillary Clinton should never be made president.