by Jack
Here are two news stories, please compare the information provided and note the omissions from the first story.
"Two sheriff's deputies in Kansas who were shot while transporting inmates from a jail to a court hearing on Friday died of their injuries, the police in Kansas City, Kan., said on Saturday.
Officials said Friday that it appeared the deputies were shot with one of their own weapons.
"When they pulled into the parking lot and readied to transport these inmates, they were overcome," Maj. Kelli Bailiff, a spokeswoman for the Wyandotte County sheriff's office, said at a news conference on Friday. "It is very possible that with their own firearm they were both shot."   (Their own firearm?  Their as in plural their?)
A suspect was also shot and brought to the University of Kansas Medical Center, officials said. The police did not release any information about the suspect's condition other than to say Friday that the person was undergoing surgery.
The deputies, Patrick Rohrer, 35, and Theresa King, 44, were taken to the same hospital. Deputy Rohrer, a seven-year veteran of the office, died of his injuries on Friday. Deputy King died early on Saturday morning. She had been with the office for 13 years.
Wyandotte County sheriff's Maj. Kelli Bailiff said. King, 44, died early on Saturday at a hospital. She had three children, including a young one.
Zeigler said the authorities were withholding the inmate's name until he's been formally charged, which is expected to happen next week.
The officials declined to go into more specifics about how the shooting happened, though Bailiff said the deputies had "followed proper procedure."
(End of first story)
This next news clip is from KCTV news in AZ and it adds a lot more depth to the otherwise sanitized story. We now have facts the Sheriff declined to state in the first story.   The fact neither the suspect's name nor his photo was released raised a big question.   The guy was in custody, what's the problem?  This points to the Sheriff trying to buy time for reasons I shall soon try to make clear:
"…. Shooting suspect Antoine Fielder's criminal history: multiple murder, drug charges In 2014, Fielder was paroled from prison after serving time on drug sale charges, according to Kansas Department of Corrections records.
Fielder was charged with first-degree murder for the 2015 shooting death of Kelsey K. Ewonus, 22, of Overland Park. Ewonus was found shot to death in her car. She left behind a son who had just celebrated his first birthday at the time of her death.
  (See picture below and right.)
Fielder's first trial for Ewonus' murder ended in a hung jury, which resulted in a mistrial. The prosecution decided to try the case for the second time, but the trial again ended in a hung jury.
Last summer, it was announced that the case would be tried a third time. Fielder is awaiting that third trial.
Fielder was charged again two months ago for a second murder in 2017 in Kansas City, Missouri. That murder happened just three months after Fielder was released from custody due to the second hung jury in the Ewonus case.   He was then placed in the Jackson County Jail."  And who is this monster, you may wonder?  Here is his picture as it appeared in the second news story.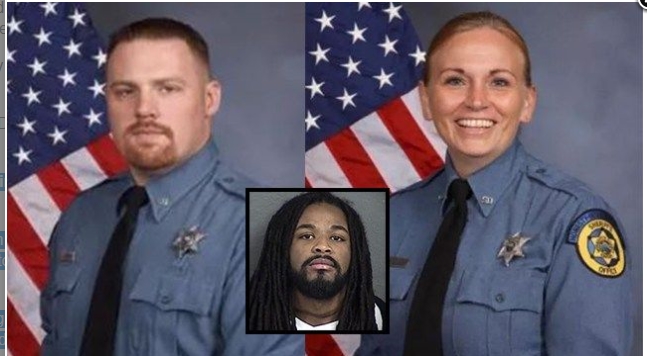 There is no question in my mind that the Sheriff was trying to buy time and the initial news story was sanitized for your reading pleasure… uh, nothing to see here folks, move along please.   Don't loiter and ask uncomfortable questions that could make us look bad.
But, that's not the way we operate here at Post Scripts.  We like to raise uncomfortable questions and get to the truth of a story.  And let me tell you, knowing this backstory will raise some darn hard questions!  Questions that the public should have answered.
As you can now see,  the Sheriff has a racially charged incident, white cops and black defendant.  But, it gets far worse… the suspect was a known killer to his agency and common sense says that requires "special custody" tactics for the safety of deputies and the inmate.  Why weren't the jailers weapons secured in a lock box until the prisoners were secured in the transport van?  This is policy at every police department I know!
I'm pretty sure the Sheriff and his administrators knew about 2 minutes into incident that the department's procedure's would be called into question!   How could they not be?  Their department procedures placed a loaded weapon within arms reach of a dangerous inmate.  Their [procedures] did not call for weapons to be secured until after the prisoners were secured.  Why not?
Thanks to our politically concerned sheriff, we still don't know who's weapon it was that killed the deputies, even though that information was immediately available…why?    Could it be because it may cast even more controversy on his policy and procedures?
The Sheriff's procedures allowed this small woman jailer to transport a large, strong, male killer.  I'm not saying [she] did anything wrong – I'm ONLY questioning the judgement of using her in this prisoner transport position that placed her at high risk.
Common sense says if you were psyco-killer Antoine Fielder, you should attack the weakest link first in a bid to escape.  Disarm that person and go!  And between the two deputies in this case, who would that be?
I guess we should have sympathy for the Sheriff, because he has enough to deal with after losing two deputies, right?  Gee, maybe should not be bringing up how women are not equal to men just because they wear a badge and carry a gun?  Yes, yes I should!!!  Our law enforcement hiring practices should be questioned.   Equal opportunity has it's limits.  To deny it does gets people killed.  And I don't like good people dying because of a bad policy.
Politically correct people like to point to the exceptional female and proudly proclaim,  "She can whoop the heck out of most men…" but, that is of course again is the exception – not the average.
Average says, women are created physically different than men!  Average says, they lack the upper body strength of most men and they are just smaller.   This means, if you average out the number of dangerous contacts a female officer will encounter, her odds are worse than the male officers for survival and injury.  She may also need to use deadly force to more often….anyone bothered by that?  She is also more costly to train and retain.  Anyone care about that?
It's an undeniable fact that females are at a significant disadvantage when it comes to upper body strength with a male opponent.  If they weren't we would have ladies in the NFL, pro golf and pro tennis, etc.,  We have a women's tee for a reason!   But, this is NEVER brought up in the news or even in academic circles, because its unfair to mention for the sake of diversity and equal opportunity!
Now we have two deputies slain for the sake of a hiring policy?  If the consensus of opinion in American is that this is fair, then fairness demands that we should never again watch professional sports until half the players are female and can compete fairly head to head with men!
Lastly, please don't be ridiculous now (Libby) and think I am calling for a ban on all females in law enforcement.  I am not.   Women have many worthwhile positions within law enforcement and they can have rewarding, well paid and fulfilling careers.  I'm okay with that – I'm not okay with putting citizens and police officers at risk needlessly, when common sense says it could be easily fixed.