by Jack
Around 10:30 pm last night, I was on my way to the store when I noticed number of fire trucks headed into upper Bidwell park.  This area is just a few blocks from my house.  Turns out, a fire had mysteriously erupted in dry brush.
The area is well known for illegal camping which has been going on for about 5 years under the nose of police and park rangers.  But, for reasons of manpower and politics, not much gets done about it.
For those not familiar with Chico, the upper park is the less travelled, less developed part of a park that runs for several miles thru the City.   For the last few years it has increasingly been both a dumping site and camp site for the homeless, much to the consternation of the legitimate neighbors living nearby.   The occasional police/public works round-up usually nets tons of trash and a few vagrants wanted on outstanding warrants.  Then the camping problem resumes within a few weeks.
But, the troubles from homeless encampments is rising to a whole new level when the massive park and adjacent homes are threatened by human caused wild fires.  California has been devastated by wild fires in the last few years, it's cost lives and billions of dollars.
The countless wildland fires are often started by vagrants in camps elsewhere around this State, so it was inevitable it would also happen here.   In July of this year the Stoney fire rushed through upper park, threatening to explode in the same way as the disastrous and deadly Redding fires that still smolder.  However, this time we were lucky.   The fire was quickly contained and extinguished by fireman now experts at fighting wildland fires.   Thankfully the available units were based here, including a Cal Fire air attack base that provided a number of air drops of chemical retardant.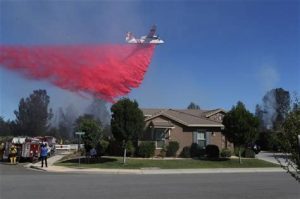 The cause of the latest fire remains undetermined, but when such fires start in remote areas, at night, as the weather turns cold, the probability of it being human caused is almost assured.
Chico's homeless population ebbs and flows, but it seems to have levelled off at around 3000.  As winter nears that population will likely dwindle down a bit more, but not enough see any significant relief from the crime, trash, drugs and other burdens placed on the local taxpayers.
When do you think the politicians in Sacramento will wake up to the fact, there is a reason why over 25% of America's homeless have now migrated into California?  There is a reason for the massive camps in big cities with all the human waste and needles on our sidewalks.  My guess is they will never figure it out.   They're just idiots with an open-ended credit card that has them focused on trying to spend their way to a utopian society.
If there is a glimmer of justice here, it's this:  SoCal has been the hardest hit by wildfires, disease, trash, drugs, and crime.  They also have the largest concentration of homeless camps, including illegals.  They also have plenty of sanctuary cities to compound the problems.  Thus it is proven once again…  people get exactly the kind of government that they deserve!