by Jack
TELLING IT LIKE IT IS, no punches pulled  (people are going to hate me for saying this…)
The typical standards of grooming and dress for a young man or woman in the 1950's verses today has certainly changed, hasn't it?  And not for the better…IMHO.
Oh, we may say we're more liberated now, look at all the creative diversity!  Maybe…but I think beyond those cutting edge, avant guard types (a fraction of the whole),  and I think we're just going further down the rabbit hole.
We're more at risk than ever of following in the path of Rome in it's end days.  We're fast becoming a weak, gluttonous, self-indulgent society that is going to be run over some day by our global competition from China, India, Japan, and more.
Back in the day, males wore their hair short, dressed in pants and a collared shirt, a few men may have had an exposed tattoo or two on the forearm or upper arm, reflecting prior military service, but that was about it.   Women were likely to have long hair down to their middle back, earrings and sleeveless blouse and skirt.  Now reverse all that.  Today a young man is almost as likely to be wearing earrings as woman with hair down to the middle of his back!  Sometimes those male ear ornaments stretch the ear lobes to the size of silver dollar.  And they have all kinds of body piercings that make them look like something from a horror movie.
A young woman often times has as many tattoos on her arms as prison gangbanger.  And a woman in a butch cut to accent her tough look?  Yuk.  We're looking seedy and almost scary!   Hey, I admit I'm no fashion plate, but I have my limits and they're miles ahead of what passes as acceptable today.
The Rastafarian look is no longer just for Rastafarians!  It's hip to look weird, but there's so much non-conformity among us it's come full circle to virtual conformity.   The long hair, beards, piercings, tats, the hippy clothes, and the smugness that goes
with the uniform…and let's face it – it is a uniform…it's total conformity, how  cliché'.  Nothing wonderful and creative about joining the crowd that looks like we've returned to being troglodytes.
I wish this were only about looks, but it's not.  Yesterday I'm waiting in the prescription pick up line at Walmart.   In front of me was this white female about 35 and she's wearing this stereotype hippy kind of uniform, you know the look, the /Rasta/bohemian/urban savage/  look.   Well, I call it the post apocalypse look.
Anyway, this gal wore long Dred locks (fried or matted coils of hair), several layers of clothing and she, carried a large canvass bag/purse.  She also had the standard long skirt, high water  pants and heavy black boots.   Sort reminded me of Ma Kettle (remember the Lil Abner cartoon?)   This is a side point, (and this 100% true), she tried to get a prescription for a narcotic, but she had t
wo problems, no valid prescription and no money.   I saw her later still in Walmart over by the auto section and she was shoplifting expensive items into her canvas bag, which was jammed full now…and remember, she had no money!
Yeah, I reported her, but by the time the clueless employee got around to alerting anyone she had left the store.  Score another one for the druggie.
The point here is, too many Americans have no class, no self esteem,  and I mean absolutely none!   They dress down and they don't care anymore and their dress reflects their values .
This dirtbag look seems to coincide with the fat American look.  So, here in CA we have in abundance, ugly, fat , stupid and unemployable look…very much in fashion.  They are everywhere.
Nobody is going to hire these freaks – but may be that is point?   I can't imagine that too many of these weirdo's are serious job seekers.   In part, it's our fault too.  We've made it way too easy for them to game the system and get by on welfare and that's probably the main reason they can by with this stupidity.
What really bugs me, is when they train up their kids to be just like them. You've seen the kids I'm talking about, they're always running wild in the stores like it was a playground and they have zero parental supervision.  And with parents like theirs they are have no chance, they're just the next generation headed for welfare.
We've got too many of us Americans today with no direction, no incentive to improve, and looking like freaks!  They are totally unemployable, illiterate, living in fantasy land.  And yet, somehow they get by,  I suspect by freeloading on welfare, selling drugs, stealing or being bums looking for a handout.
Chico is loaded with these losers.  It's really disturbing to see so many non- productive people.   But, it's getting worse….the crime is also following these folks.
Liberals will call me out of touch, that I'm being mean, judgmental, cold hearted, narrow mind, etc.   Well, too bad!  It's exactly how I feel and it's what I see happening everywhere in our society.  The results seen in our economy backs up everything I'm saying too.    We're headed down because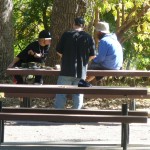 we're becoming a very sick, weak, stupid, and corrupt society  with very low standards across the board.
America was not built by dropouts, drifters, degenerates and dopes….and if we don't wise up, this country won't last.  The competition is out there.  They're tough, smart and hungry – which is the opposite of what I see here.  We getting fat, dumb and lazy.   The competition is building an empire while we build medicinal marijuana co-ops and rest on our butts, content to spend down our inheritance.