by Jack
Why were the police told not to stop the looting?
The verdict was read, but in the minds of many it was meaningless. They had an agenda and it was about to be fulfilled, they only need the cover of large numbers of people to carry it out.
As mobs go, they were spread very thin and dispersed over a wide area. On the other side police had up to a 1000 riot equipped officers with heavy armor ready to do battle, backed up the National Guard. And then there were the fire trucks, all at the ready. But, when the rioting began, when the fire bombs were tossed, when the buildings were burning, the only people who responded were unarmed news crews from Fox and CNN.
 The fire department didn't respond to arson fires
Ferguson public safety personnel were held back for weak, liberal politics that said, go easy, don't do anything that might upset them even more and for God sake don't make any arrests unless you absolutely have too! The police were ready, they saw the looting mere blocks away, the fire department could see the building burning from their trucks and they were held back. Don't go, we have shots fired in the area, it's too dangerous.
And they obeyed their orders and the looters looted and buildings burned. They couldn't even get permission to put out the flames on a burning police car just yards from the police line. And yet, only a few dozen angry protesters roamed the area, some using bull horns to taunt the police.
Despite months of preparation, when push finally came to shove, timid bureaucrats and weak kneed public safety administrators choose to under-respond than to due their duty.  Store owners were abandoned to defend their property, those that did had no trouble, those who didn't were looted.  These three on the right protected their store…the cops didn't.
Looting took on a carnival type atmosphere
If you fault Officer Darren Wilson for using excessive force, then you ought to equally fault the police for not using force when it was absolutely prudent and necessary to protect property and the public.   Protecting life and property is fundamental to being a sworn officer and they were forced instead to watch criminal acts right before their eyes as they stood in a police line.  They were under orders to retreat if the meager, but angry, crowds advanced on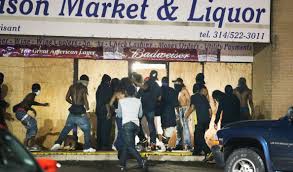 them. And they did retreat and the crowds were so few in number!   This unfolded right on TV before my very eyes and I was so disgusted that after 20 minutes of watching the professional agitators inciting others to riot, the looting, vandalism, thefts and the arsons  it was just too much for this old retired cop, I was ashamed of what I saw and I turn off the television.
Where was the national guard?
President Obama set the stage for this on both sides and his inciting and lack of leadership filtered down through the ranks until police were afraid to do anything – eve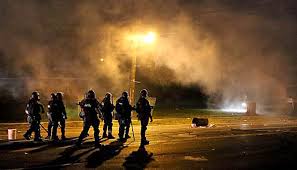 n when it mean watching the looting from a safe distance. This was absolutely unbelievable and I am so disgusted and fed up.
Officer Darren Wilson, in my opinion, acted in a foolish manner and contributed to a bad outcome, even if it was deemed legal.   Not everything that is legal is smart or even moral.   Yes, I might have fired that shot inside the police car in a struggle to recover my weapon, but everything else that happened after that was a choice that I feel showed bad judgment.
Cops in riot gear stood around with nothing to do while stores were looted and burned
People may have a right to be angry at Wilson, but why take it out on a liquor store?  You don't burn down an auto parts store to advance race relations!  Looting has nothing to do with civil rights or free speech.  These are heinous crimes that shouldn't have happened and couldn't have happened if politicians and race-baiters were kept out of it.
The same kind of bad judgment that caused Michael Brown to commit a strong arm robbery was used by the lawless rioters.  Brown was no hero, he had just committed a strong arm robbery in a grocery store before he was spotted by Officer Wilson. Brown threw the first punch and attacked the officer. He made a grab for Wilson's pistol and was wounded in the struggle. Brown was not a good guy here. He was not the innocent person people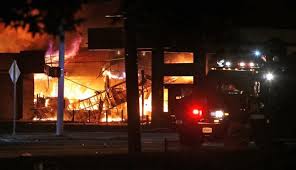 in the black community portray him. Did he deserve to be shot when he turned back onto the officer pursuing him – yes, at that point Wilson had every right to defend himself, even with deadly force.
Should Wilson have pursued him alone with his backup just seconds away?  Hindsight says probably not, but it was a judgment call made in the heat of the moment.  In my opinion if he knew he could not handle Brown, he should have waited for backup.
Wilson could have watched where Brown was running and still made the arrest without resorting to deadly force.  Of course this is all hindsight.  But, at that moment, with all that had just happened, he was determined to arrest Brown and the momentum of that moment in time took over.   The officer had been attacked and he was hurt and angry. I can see why he did what he did, but he made a bad choice based in anger and adrenalin. What followed speaks for itself.
There's lots of blame to go around in Ferguson, perhaps too much for me to comprehend this morning, so I'm going to end here, but it's not over….there's more to say. Your turn.