by Jack Lee
Hours ago France suffered a deadly Islamic terrorist attack in Paris.   At least 12 people are dead after three hooded gunmen armed with Kalashnikovs attacked the headquarters of a French satirical magazine and opened fire on journalists and police guards. The three men – described by a police union spokesman as "commandos" – are on the run after walking into the offices of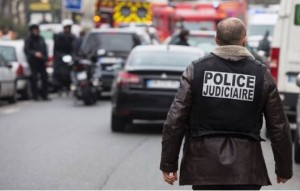 Charlie Hebdo in Paris midday on Wednesday and fleeing in a getaway car.  
The death toll includes 10 journalists and two police officers. At least five people are seriously injured.
Witnesses said the two unarmed police guards stationed near the office building where the attack began were simply assassinated.  One of them, a young officer, fell to his knees and begged for his life.  He was shot point blank in the forehead by a gunman wielding an Russian designed AK 47 assault rifle.  The trio then proceeded to the office of the satirical magazine Charlie Hebdo where they slowly and systematically targets specific people, including one cartoonist and the magazine editor.
The magazine had recently run a few political cartoons critical of Muslim extremism and it's believe this was the motive for the attack.
During the assault the trio conversed in perfect French while intermittently shouting Allah U-Akbar (Arabic for God is Great).  One witness recounted one of the 3 saying they represented Al Qaeda in Yemen.   The gunmen exited the building minutes ahead of armed police to a waiting car driven by a 4th person.   The getaway car was later found in an ethnic Arab neighborhood where  it was determined as stolen, but not before a second car was hijacked and the driver turned out into the street.   That car has not been found as of this moment.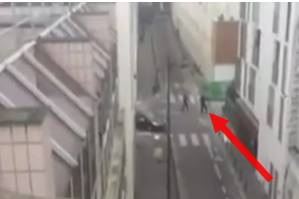 The French president, François Hollande, headed to the scene of the attack and the government said it was raising the security level to the highest level. "This is a terrorist attack, there is no doubt about it," he told reporters.   However, he stop short of calling it a Muslim-terrorist attack, despite the fact the gunmen were shouting praise to Allah as they executed their victims.   Newspaper offices, shopping centers, museums and stations have been placed under police protection.
(Left – Terrorist gunmen shown on Paris street – also see below close up photo) Despite hundreds of witnesses, the police now have few clues.  However, investigators are looking into recent arrivals from the Middle East and checking with informants within the Muslim community.   The fact that 3 Kalashnikov rifles were smuggled into the heart of the French capital to be used by Muslim terrorists, possibly Al Qaeda, and that they were able to carry out their attack on bastion of free speech  virtually unimpeded, despite extra security precautions has French officials visibly shaken.  France has one of the strictest gun control laws in the world and despite this assault weapons were used in a brazen attack that met no resistance, even by two police officers stationed close by because like the civilian victims, they too were unarmed.
The attack took place not far from the City center near Notre Dame and East of the Arc de Triomphe.  The getaway car was found in the area of Porte de Pantin which is located around a railway station.
The French have thwarted a number of potential Muslim terrorist  attacks in recent months, so the expectation of another attack was heating up and precautions were taken, but this one slipped in, despite their best efforts.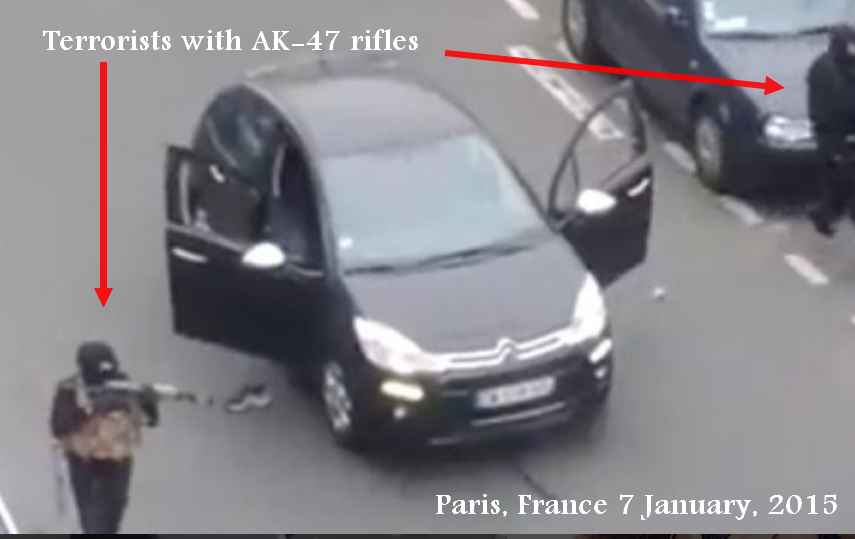 I can't say for sure what the French police are doing right at this moment, but as a retired investigator, I have a pretty good idea because there's a check list of things to do used by most nations to expedite the investigative process and not miss fundamental points.  Here's what I theorize is transpiring:
1. All the usual APB's relayed to police.  2.  They've thrown an electronic bubble over the City and are using an intelligence gather system similar to the US developed Carnivore, a computerized program that tracks telephonic conversations using certain keywords to take a closer look at the entire conversation.  3.  Naturally all points of exit were immediately monitored by an elaborate video camera system, especially in the gunmen's last known direction of travel.  This includes air units videoing the area.  Normally a hijacked car should be detected fairly soon, unless its been garaged.   4. Also immigration records (for the last 90 days) are being scanned for possible matches to the terrorists descriptions.  5. Bank transfers from Middle Eastern nations to France are being checked, of particular interest will be the known financiers of terrorism within France and elsewhere.   6. The DCRI, similar to our CIA would be looking at their long list of potential suspects.  7. A round up of informants and as well people under watch, including those in custody, will be taking place almost immediately.    8. Foreign intelligence agencies would be contacted seeking outside assistance.
There are other things likely happening, but I'm not at liberty to discuss them here.
France has not been the most cooperative ally in the war on terrorism.  They even remained out of NATO for 43 years and only returned as a full member in 2009.   The liberal French socialist government has come under heavy criticism for the loose immigration policy that contributed to the rioting seen in 2007 in Paris, known as the Villiers-le-Bel riots that began in Clichy-sous-Bois.    Prior to that there was widespread rioting, looting and arson fires close to Paris, but mostly in poor sections occupied by African-Arab immigrants - Clichy-sous-Bois.  This has prompted a mild backlash of French nationalism who fear they are losing their culture, but it has not gone any further than a few protests.
In Germany the anti-Muslim protests have intensified considerable over the last two years.  There have been weekly protests by the Patriotic Europeans against the Islamisation of the West (Pegida) since October.  A record 18,000 people turned out on Monday at one rally in Dresden.
Thousands of people marched in Berlin, Cologne, Dresden and Stuttgart.  In Berlin, police said that some 5,000 counter-demonstrators blocked hundreds of Pegida supporters from marching along their planned route.  A total of 22,000 anti-Pegida demonstrators rallied in Stuttgart, Muenster and Hamburg, according to the DPS news agency.  But, in Dresden, police said that 18,000 people turned up for just one anti-immigration rally.
The welcome mat for Muslim immigrants may soon be taken inside by a number of European countries, especially those who have suffered from Muslim rioting and terrorist attacks which has become common in Western Europe and England.   You may recall in 2005 Denmark suffered its worst international incident since WWII when a magazine published a cartoon of Mohammed.   This caused local rioting, death threats and eventually a number of actual deaths in Muslim countries.    This became known as the Jyllands-Posten Muhammad cartoons controversy (or Muhammad cartoons crisis).   Message from the Queen of England was sent to France moments ago, see right.  Click on image for larger version.
Muslim Terrorist attacks since 9/11:  Click here for details. 
Pew Research Study – 2006:
France has the largest Muslim population (over 5 million), mostly of Algerian and Moroccan origin ; in Germany most Muslims come from Turkey, in England from Pakistan and in Spain from Morocco
The proportions of Muslims in European countries are much higher than in the USA : 8% in France, compared to 0,55% in the USA.

French Muslims express globally the same opinion as other European Muslims about :

fear of unemployment : 84% (vs. 78 to 83% in the three other countries)

concerns about their future : 38% (vs. 28 to 48%)

unfavorable rating of the U.S. : 69% (vs. 65 to 76%)

unfavorable rating of Americans : 51% (vs. 46 to 54%)

opposing US war on terror : 78% (vs. 62 to 83%)

sympathies for Palestinians : 76% (vs. 50 to 75%)