by Jack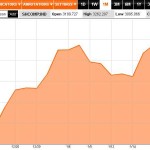 A lot of nervous investors and fund managers are awaiting the opening of the US stock exchanges after the huge sell-off today in the Chinese Market. Chinese stocks plummet 8% as regulators pricked their stock bubble. An 8% drop in one day's trading is like our NYSE losing 1200 points! This is panic selling, a financial disaster.
From Fortune.com: "Even before noon Monday, trading in China's biggest stockbrokers was halted in Shanghai because their own stocks had crashed by the daily limit of 10%. That's the kind of day it was in China's stock markets—or casinos, depending on your persuasion."
WSJ reports more trouble looming: Once again, Greece is being roiled by political uncertainty and the uneasy mood is spilling over to other markets. The anti-austerity party Syriza's strong standing in the polls raises the risk that it will win power. This is likely to leave the rest of the Eurozone in a quandary. Syriza is likely to demand that Greece's debts be forgiven, the alternative being a Greek departure from the euro. Although the single-currency region would undoubtedly be stronger without Greece, its abandonment of the single currency would put paid to any notion of the currency's irreversibility.