by Jack
When I was 18 Vietnam was a full on war, but I was attending a Junior College, so I was temporarily safe from the draft.  We (fellow students) were frequently reminded of that by our instructors.  They used that as leverage to get our attention and to keep that grade point up or risk being dropped and face the inevitable…the evil draft.
My friend, Don Christy, was the first to drop out and as expected he was immediately drafted…into the Marines.  I followed him a bit later when I was drafted into the Army, but not before I tried to join the Naval Reserve.  I was rejected by the USNR because I wore dental braces, even though they were to come off in a matter of months.  Unfortunately, that didn't matter to the Navy, they simply didn't want to assume the liability.   So it was that I found myself drafted and in Oakland at the induction center a short time later.
Just before we were ready to board the bus to our new home, presumably this would be Fort Ord (a huge boot camp at the time), the sergeant asked if anyone had  dental braces or appliances?   I did of course, but I said nothing, wondering if I could sneak by?  He asked again, and the recruits started looking at each other.  I recall one of the guys saying if had known braces would keep him out he would have seen his orthodontist a long time ago!  On the third sand final demand for anyone with dental appliances to step forward I finally did, fearing that if they caught me later I would just got tossed out anyway.
So here I was, left behind at the induction depot, watching as some of my good high school friends board army busses for an uncertain future in a war zone.  What a freaking let down!  I was mentally ready to go, I wanted to go and then there were others who would have loved to skip this adventure and stay home, but  they couldn't.  Life isn't fair is it?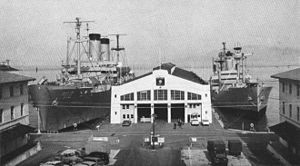 As it turned out this situation was to take a sudden reversal of fortune when my braces came off.   I recall being at the local EDD looking for work when I spotted a recruiting poster asking for men to apply for a special military program for the United States Navy, Military Sea Transport Service.   Never heard of it before, but it looked great and if I qualified I could be doing any number of amazing things, from being on an ice breaker exploring the polar region to being on an aircraft carrier headed to Vietnam.
My Dad was a WWII Navy vet and I knew he would be proud if I could qualify.   So, I tested and I scored high, beating out thousands of other applicants for this  very special, very new position that would only accept a small number of people.   I was the first of my kind in the USNR-MSTS training class.   After my boot camp I would be attached to a Navy ship.
Upon graduation I applied for a troop ship and got it, next stop Vietnam!  Wow, what luck!  Unfortunately my luck didn't hold up.   We barely made it out of San Francisco when our ship blew a main sewer line and we were forced to turn around, much to the delight of those soldiers on board.  But, their joy was short lived when they found out they would be boarding passenger planes and get to Vietnam even faster.
I wanted to go, I wanted to see Saigon, I wanted see everything I could and have the right to say, yeah I was there as a sailor.   I was trying to be part of this war, even if it was only a small part, because to me this would be a badge of honor, Vietnam was a big deal and I was desperate to go.    The soldiers disembarked our ship at NSC Oakland and the next day or two they were flown to Vietnam and we headed over to the Todd Ship Yards just across the bay for repairs.
Week after week we sat there and I felt the world was passing me by.  Then came a break, the Navy was looking for volunteers (with my training) for a special mission and it came with a 10% pay increase!   This had to be better than what I was doing, which was basically chipping paint and swabbing diamond deck plate in the engine room.
I lucked out, my request for transfer was accepted quickly and soon I was boarding a plane to….uh, parts unknown.   Funny thing was, I was loaded on a twin engine prop plane with only 10 seats… this must be a connecting flight, I thought.  No, it was the actual flight to my new base and we were soon wheels down at a remote civilian airfield near… Oxnard?  Kee-rap, this was a barren, dismal looking, airfield.  I could only imagine what the base looked like.   From there we called a cab and were taken to Port Hueneme, CA.    This was a USN Sea Bees base where almost all navy construction battalions were headed to Viet Nam.  It was actually a pretty nice place, and things were really happening there.   So much activity… it was a busy place!
My life was looking up once again.
We were assigned to a WWII victory ship, now refitted and designated a T-AGM-4, which had dual missions as tracking missiles fired from Point Magoo to doing picket duty off Kwajalein Island in the South Pacific.    Oh no, a ship destined to go…. no where!  Kee-rap again!   Just long, boring, days at sea with nothing to see and little to do.  See picture on right.
This story could end here,  but a few years later I got a second chance with the Guard, but we never did anything either.   I was never once called up to do anything, just train, train, train…boring.   So I phased out of that, but years later I got a third chance.  This time I wound up serving as a reserve NCO at the Joint Forces Headquarters in Sacramento.   This was an army – air composite.   I was placed on active duty three short times.  Finally I was able to do something meaningful during times of natural disasters.   My last 3 years of service was spent there more or less, aside from training, and then I was age limited out.
My friend Don from college became a radio operator in the USMC and he was killed in Viet Nam.  So, despite my every effort to follow in his footsteps, fate obviously had other plans for me… boring, safe plans, but looking back it was for the best.  I have a great family and now I get to spend my retired years on this blog… bugging our liberals! LOL
Not much of a tale, I admit, but then its kind of typical.  Very few people in the military ever see combat….but for those that do, be they living or dead, I honor and admire them for their courageous service.
Thank you vets, all of you, past, present and future, no matter what you did, at least your served!  And a very, very special thank you to all those military families who lost loved ones in the service of this great nation.   We owe you more than we can ever repay, I can only hope the pain of your loss will lessen with the passage of time.   What they have done will never be forgotten and in that sense they will live on in our memories.   God bless and good night.  -Jack