Posted by Jack
She's a white gal posing as a black female, which by itself is no big thing.   In today's society you're welcome to be whoever or whatever you want to be.   You're a guy who wants to be a female or you're female who wants to be a guy, no problem.  You want to wear a dog suit and frolic with other people in animal costumes, no problem.  However, apparently there is a problem when the black-poser heads up the local chapter of the NAACP and she teaches black studies at the university by virtue of her false racial identity.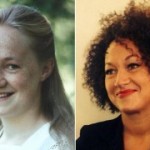 She's now facing ethics charges and false identification.
"Rachel Dolezal is the President of the Spokane chapter of the NAACP, chair of the city's Office of Police Ombudsman Commission and an adjunct professor at Eastern Washington University.
This week, she was outed as a fraud by her estranged mother who says she isn't black and has been faking her ethnicity for years.  In fact, her mother said she is Czech, Swedish, and German.
The Spokesman-Review reported this week there were questions about Dolezal's background and complaints she has made to the police about being harassed. This story was reported by the Coeur d'Alene Press.
Dolezal has represented herself as white, black and American Indian. Many believe this mixed background helped her secure the prominent positions in the NAACP, the local government and gain the credibility to teach African American studies courses.
When her mother came forward with claims of her true heritage, KXLY asked her during an interview if she was African American. Dolezal looked puzzled, stunned, and responded, "I don't understand the question."
After this baffling statement, she then retreated from the press conference and hid in a local store to avoid further questioning.
As a result of these findings, Dolezal faces a city ethics investigation over the false identification."