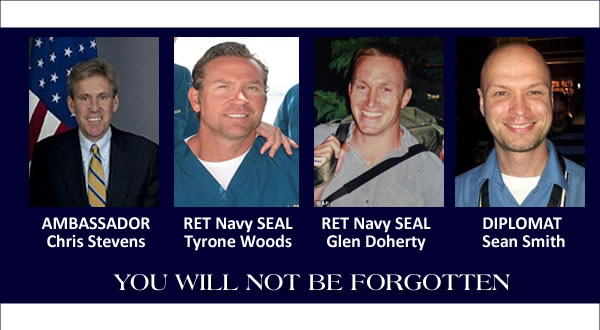 Posted by Tina
The House Select Committee report on Benghazi was released to the public by Trey Gowdy and his committee members today. Asked whether his report was an indictment of Hillary Clinton the chairmen said that he was asked to investigate what happened regarding the deaths of four Americans and that is what his committee set out to do and did. He urged everyone to read the report themselves and draw their own conclusions. He said his aim was to find the "who, what, when, and where" in the situation and that he wasn't asked, or inclined, to ask "why."
Our readers can find the full 800 page report here. Members of the committee made individual statements to the press which are also available at that link. You will find two of the statements highlighted below. The following facts are among the many new revelations in Part I:
Despite President Obama and Secretary of Defense Leon Panetta's clear orders to deploy military assets, nothing was sent to Benghazi, and nothing was en route to Libya at the time the last two Americans were killed almost 8 hours after the attacks began. [pg. 141]

With Ambassador Stevens missing, the White House convened a roughly two-hour meeting at 7:30 PM, which resulted in action items focused on a YouTube video, and others containing the phrases "[i]f any deployment is made," and "Libya must agree to any deployment," and "[w]ill not deploy until order comes to go to either Tripoli or Benghazi." [pg. 115]

The Vice Chairman of the Joint Chiefs of Staff typically would have participated in the White House meeting, but did not attend because he went home to host a dinner party for foreign dignitaries. [pg. 107]

A Fleet Antiterrorism Security Team (FAST) sat on a plane in Rota, Spain, for three hours, and changed in and out of their uniforms four times. [pg. 154]

None of the relevant military forces met their required deployment timelines. [pg. 150]

The Libyan forces that evacuated Americans from the CIA Annex to the Benghazi airport was not affiliated with any of the militias the CIA or State Department had developed a relationship with during the prior 18 months. Instead, it was comprised of former Qadhafi loyalists who the U.S. had helped remove from power during the Libyan revolution. [pg. 144]
Rep. Mike Pompeo (KS-04) released the following statement regarding these findings:
"We expect our government to make every effort to save the lives of Americans who serve in harm's way. That did not happen in Benghazi. Politics were put ahead of the lives of Americans, and while the administration had made excuses and blamed the challenges posed by time and distance, the truth is that they did not try."
Rep. Martha Roby (AL-02) released the following statement regarding these findings:
"Our committee's insistence on additional information about the military's response to the Benghazi attacks was met with strong opposition from the Defense Department, and now we know why. Instead of attempting to hide deficiencies in our posture and performance, it's my hope our report will help ensure we fix what went wrong so that a tragedy like this never happens again."
Those who died serving our country in Libya will be remembered for their service, their bravery and their dedication. The report will become art of the permanent record whether or not the American people bother to read it for themselves. It is a sad state of affairs that persons in our government will not be held accountable for their mistakes and incompetence simply because half of the American people can't be bothered or put politics above the integrity of our government and the lives of those serving it and because those who claim to be professional journalists have sold out to partisan politics.
Democrats did not participate in this investigation. They released their own report yesterday which incredibly references Donald Trump 23 times.