by Jack
What kind of monster can rationalize the mass murder of families out for an evening of Christmas shopping?
I will tell you what kind, the kind who believes he is doing Allah's will!  There is no end of twisted justifications to be found inside the Koran for radicalized lunatics bent on killing those they label as infidels.
This just in (Berlin, Germany): A large 18 wheeler truck sped into a crowd of shoppers, killing at least 9 and injuring another 50.  The driver then ran away from the carnage he caused and remains on the loose at this time.  (Update minutes ago – he's been captured)
More on this story to follow as the facts become known.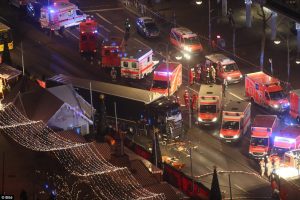 Ankara, Turkey:  In another horrific act of murder, the Russian ambassador was just gunned down on television by his (Turkish police) bodyguard.
This murder was done before millions of people on live television as the ambassador prepared to give a short speech. The police officer, dressed in a black suit, pulled out his 9 mm service pistol and fired it at least 3 times into the ambassador's back.  He then fell dead onto the stage floor. Other security personnel responded and shot the assassin dead, but not before he shouted slogans of Allah U Akbar, and praised ISIS.
The bodyguard carried ID that showed he had the highest of security clearance. I don't know how well "vetted" the truck driver was that killed all those innocent people, but I know this officer was very well vetted and yet, nobody saw this coming!  This begs the question, how can we, as a country, expect to screen out terrorists from all the Muslims coming in from war ravaged middle east countries?
In every European country that has increased their Muslim (refugee) populations, they have experienced a major surge in arson, civil unrest, theft, rape, assaults and in many cases…direct acts of terrorism.
I ask now…what's in it for America if we increase our Muslim refugee population like England, France or Germany? And if we do, should we not expect the same results?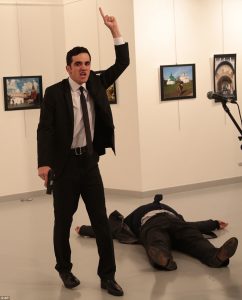 In America, it is not difficult for a citizen to come by dangerous materials.  We can easily make black powder pipe bombs, buy knives, hunting rifles, shotguns or even poisons.  There's all kinds of stuff afforded to a citizen of the USA that may not be in Europe.  So, yeah, we're more vulnerable.
We've accepted that risk within certain limits, because it's been part of our pioneer heritage that incorporated self-defense, survival hunting and useful tools for a new and sometimes wild country.
But, I have to ask, should we take that risk for people who have no desire to assimilate (radical Muslims) and do not share our idealism?
Radicalized Islamic terrorists pose a greater threat here in the USA than in Europe because of our freedoms.   So I ask, what freedoms would you like to surrender in order to accept refugees and be at least as safe as Germany, France or England?  And which one of your friends, family and neighbors are you prepared to put at risk?
After 9/11, every liberal who welcomed Muslims with open arms, who then went on to kill our citizens in acts of terrorism, was played for a fool.   Are we willing to to repeat their mistakes and put our fellow citizens at risk?
Until we figure out exactly who wants to be here and that they want to here for the right reasons,  then maybe we should halt allowing Middle-East Muslim refugees in?  Again, let me be specific, this is temporary and the "right reasons" mean we are vetting immigrants to determine who among them will embrace our culture, our Constitution and love our freedoms (including equal rights).  If they can do that…then, I say lets take a chance and let them in, but at the first sign of them leaning towards radicalism, we deport them.
But, without that assurance, its wrong to risk American lives on people who have demonstrated no love for our country, who have actually been at odds with America and expressed hate for America.  Why would we do that?  Being a refugee is not enough, we must determine their Islamic beliefs and their feelings about America.  But, even then they could become radicalized after they are inside the country, as we saw in the Ft. Hood shootings and the shootings in Oklahoma.  We have no shortage of homegrown Muslim terrorists.
Remember: An extensive background investigation on a Muslim bodyguard didn't save the Russian ambassador, how well do you think we're going to do?