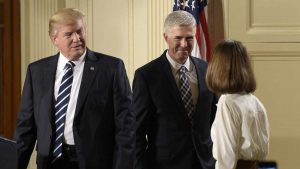 Posted by Tina
Democrats up for election in states where Donald Trump prevailed over Hillary Clinton find themselves in a pickle now that President Trump has announced his pick to replace Judge Antonin Scalia. The announcement hasn't ruffled the feathers of confident Republicans who have vowed to secure his place on the court. Senate Judiciary Committee Chairman Chuck Grassley says he will hold hearings in six weeks.
We'll stay tuned for the inevitable fireworks, meanwhile, a motley crew of 3000 left activists with potty mouth protested in front of Chuck Schumers home tonight. The little darlings are angry at Chuck for being such a wimp. Their war chant: "WTF Chuck?"
Original. Elegant. Classy. Intelligent. Right?
Poor dears…Schumer, Pelosi, and the rest of the left leadership won't be able to keep up, much less stop, Trump. He represents the will of people that have had it with the lefts tyrannical governance and the bullying mobs they use to make political noise.
Neil Gorsuch…an extraordinarily good choice!