by Jack
In 2011 California Gov. Jerry Brown signed the second half of the state's DREAM Act, just days before the end of the legislative session. The law, AB 131, supported illegal immigration by encouraging undocumented persons to apply for state-based financial aid for students through the Cal Grant program. This was one among many other State benefits illegals were being offered.
This key legislation was a huge victory for racist La Raza, Mecha, the Hispanic Caucus and illegal immigrant rights advocates. All these forces and more, are militants working hard in California to expand their power to further dominate California with their special interest
agenda. What we're seeing is stunning and we're headed towards a voter base that identifies more with Mexico than with the United States. This is shocking, but it gets worse. This law, and others like it, are symbolic of an abrupt change in power and demographics. This is something legal immigration laws was designed to prevent. We believe in immigration, but in amounts that will allow a smooth transition into American society and it allows new citizens an opportunity to understand and adopt our principles of democracy, equality, rights and in general appreciate our culture first over all others while still respecting those other cultures.
The new movement that embraces too much unchecked immigration (open borders) also supports sanctuary cities, making it even more enticing to illegal immigration. Of course this is in defiance of the law and the Constitution, but when you have a big agenda like the CA democrats, the ends justify the means.
Our great melting pot is barely working in California and this has resulted in a sort of State sponsored racism, i.e., preferential treatment based on ethnicity… again, in defiance of federal law. It is part of a far-left, counter-culture movement that seeks to control California and so far its working. However, the only way they can succeed is to violate federal law: "Any person who, knowing that an alien has come to the U.S. in violation of law, conceals, harbors, or shields from detection such alien in any place, including any building… shall be imprisoned not more than 5 years." (8 U.S. Code, section 1324) President Obama refused to take action against cities like San Francisco that shield illegal immigrants even after arrests or criminal convictions. He deliberately ignored existing federal law. I don't why he wasn't indicted? These are the kind of laws that maintain our Union; its why we fought the Civil War. Their (leftist) successes in the CA legislature have made them more bold and more transparent, but despite their obvious agenda informed voters are a rare commodity these days and so the problem grows.
It should be noted that prior attempts to pass the student loans for illegals was vetoed multiple times by the state's former governor, Arnold Schwarzenegger, despite the overwhelming democrat support in the state's Legislature and in conjunction with the powerful Hispanic Caucus.
Schwarzenegger was the last stand against these militants and he vehemently argued this bill would undermine federal efforts at legal immigration and divert critical funds away from priority projects such as highway, road and bridge maintenance, while greatly adding to the already high student loan default rate and a growing State deficit. Concerns over the bill's projected fiscal impact were ignored by democrats. Despite the polling that showed the majority of Californians actually opposed the bill, it was narrowly passed by rushing it through the legislature among hundreds of other last minute bills, in order to avoid a full and open discussion. This is not the way to do the people's business! (Shown right-May Day liberal aggitator being arrested in Los Angelse)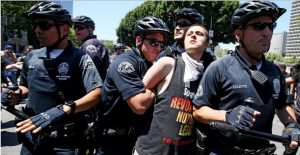 The above example of a bad law is but one of the many ways democrats are using to divide Californians along ethnic lines and against the so-called rich white people. Their dogma of hate attempts to say the rich old white people have had their day and now they need to die or get out of the way. Hard working, successful California families that helped build this state are declared the enemy of the new regime. If the leftist democrats have their way, those families and their businesses are headed out of California or into extinction.
Given this trajectory, where will we be in another 20 years? Who knows, but unless this subversive agenda for the future of California is reversed, I would not be surprised if at some point it becomes necessary for the federal government to take police action against CA to restore Constitutional law.