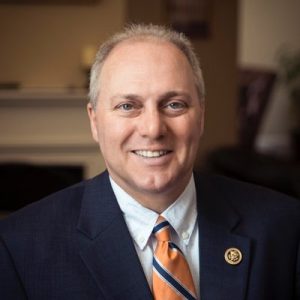 Posted by Tina
UPDATE REGARDING REPRESENTATIVE SCALISE: IT WAS FIRST REPORTED THAT HE WAS IN GOOD CONDITION FOLLOWING HIS SURGERY BUT LATER HIS CONDITION WAS SAID TO BE CRITICAL
The Congressional Republican baseball team was targeted for mass murder this morning as they practiced for a yearly charity baseball game. House Majority Whip Steve Scalise of Louisiana was shot in the hip but is now out of surgery and in recovery. Two security officers who were with him as part of his capitol detail were also wounded but not before taking out the shooter who died at the hospital. Had they not been there, and armed, the likelihood of casualties would have been high. Michigan Rep. Mike Bishop said they were like "sitting ducks":
"The only reason why any of us walked out of this thing, by the grace of God, one of the folks here (security detail traveling with Scalise) had a weapon to fire back and give us a moment to find cover. We were inside the backstop and if we didn't have that cover by a brave person who stood up and took a shot themselves, we would not have gotten out of there and every one of us would have been hit — every single one of us," said Bishop. "He was coming around the fence line and he was looking for all of us who had found cover in different spots. But if we didn't have return fire right there, he would have come up to each one of us and shot us point-blank."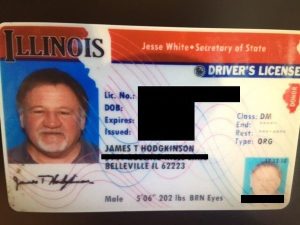 The gunman, James T. Hodgkinson, a 66-year-old white male from Belleville, Ill., was a Bernie Sanders supporter who worked on Sanders' campaign. Just prior to the assault the shooter asked one of the representatives who was leaving the field whether it was Republicans or Democrats on the field. Soon after he fired at least 50 rounds at republicans present before being shot himself. He died at the hospital without uttering a word. His Facebook page included hateful language, calling Trump a "traitor," and insisting it was time to end Trump and Co. He was apparently convinced that the manufactured Russian story was real despite the lack of evidence. Inflammatory language and fake news has become the norm for Trump haters across the land and in media and entertainment. Hodgekinson reportedly belonged to several anti-Republican groups including "Terminate the Republican Party."
Britni de la Cretaz, a Boston-based freelance writer for such esteemed publications as Rolling Stone, The Washington Post, The Atlantic and Marie Claire, is blaming House GOP Whip Steve Scalise (R-La.) for being shot. She pointed to a bill introduced by Scalise to relax restrictions on interstate firearm sales. Her remarks mirror those of Governor Terry McCaulliff who answered questions from reporters at the scene and invoked gun violence saying in error that 98,000 people are killed in America from gun violence before correcting himself. The actual number is 98 and it should be pointed out that there would be far more victims were it not for armed police officers and good people who carry for defense.
Most of the Democrats in DC have been gracious including Bernie Sanders who condemned the actions of the shooter, "Violence of any kind is unacceptable in our society…"
President Trump called for prayer and unity praising first responders:
Trump praised Scalise as a "friend," a "patriot," and a "fighter," saying he would make a full recovery and that Washington, the country, and the world were praying for him.

Trump also praised the police officers who were wounded at the scene.

"Many lives would have been lost without the heroic actions of the two Capitol Police officers who took down the gunman despite sustaining gunshot wounds during a very, very brutal assault," Trump said. "Melania and I are grateful for their heroism and praying for the swift recovery of all victims."

He added that the police's "sacrifice makes democracy possible."

"Everyone on that field is a public servant: our courageous police, our congressional aides, who work so tirelessly behind the scenes with enormous devotion, and our dedicated members of Congress, who represent our people," Trump said. "We may have our differences, but we do well in times like these to remember that everyone who serves in our nation's capital is here because, above all, they love our country.

"We are strongest when we are unified," he added.
I honestly hope this violent shooting acts as a wake up call to Trump haters and those who are so bitterly partisan that their political expressions remain personal, vitriolic, and violent in nature.