by Jack
A lot of Americans still have no clue why North Korea is threatening the United States with nuclear weapons, some in Washington don't either.   But, here's the big picture, as clear and concise as I can make it: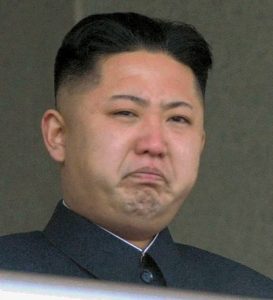 The North Koreans have been brainwashed for over 60 years to believe the United States prevented the re-unification of the two Koreas for our own economic and strategic reasons.  One only has to look at the prosperity of South Korea  and compare that to the starvation in the North to see how ridiculous that belief is.
Russian President Putin tried to put an additional spin on this false narrative yesterday in Beijing.  He said Kim Jong Un saw what happened to Saddam Hussein.  He knows exactly who did it, and he doesn't want to wind up like Hussein, dangling from a rope.  Another unfair comparison.
Putin said that while Russia condemned North Korea's latest actions, imposing any kind of sanctions would be "useless and ineffective." Kim would rather starve his people than see his regime overthrown, he said.Putin says this nuclear build up is the only way Un can feel safe from American aggression, but he adds this is also bringing the world to the brink of a great catastrophe.  Sanctions haven't worked, except to starve the peasantry and yes, any nuclear exchange would be catastrophic.
Every year for the last 60+ years the US and South Korea hold war games.    The North Koreans used this for their own propaganda purposes.  So every year they claim that the US and South Korea are preparing to invade the North.  This is now a genuine fear, rational or not, spread among the Communist leaders.  So we have both fear and hate being constantly directed at the US.
China has asked that the US cancel the war games to allow Kim Jong Un some time to calm down.  The US response, "we are insulted by such a proposal."   The war games continue, the rhetoric continues, and Kim Jong Un continues to send "presents" aka ICBM's into the
air, sometimes flying over Japan.  His nuclear tests also continue, the latest being a hydrogen bomb, the largest blast to date.
The US miscalculated when they signed a number of nuclear disarmament treaties starting with the early Clinton years through Obama's term.  There's been five agreements and they've all been violation before the ink was dry.
China doesn't want to see a nuclear armed North Korea and certainly not WWIII!  But, they have greatly miscalculated by allowing first Kim Jong Ill and then his son Kim Jong Un, the latitude and sometimes the materials, to continue their nuclear program with minimal interference.  This served China's internal political and economic purposes for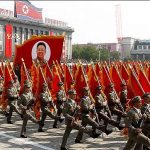 years, but now the North Koreans have really done it, they have the bomb and the means to deliver.   China fears a war would have millions of North Koreans streaming over the Yalu river.   Further, China has their population problems already, they don't need this.  They have political sympathies with communist North Korea  and still hold many old grudges against the capitalist West.
We've heard the sabre rattling many times before, but this time it's quite serious.  Russia and China are nervous, genuinely nervous and they are looking for a way to de-escalate the situation that is part of their own making.
The US is not interested in backing down or another treaty.  Push has finally arrived at shove.  Who knows what the next move could be, but you would be foolish to think we are not close to war – we are.   However, we lack credibility in the world because too many times we've drawn a line and then never did a thing except talk.  Our far left protestors, our liberals in Congress and especially, Obama, Clinton and Carter made us look weak and indecisive.   Now, it's for real and we have no credibility?  That's just great.