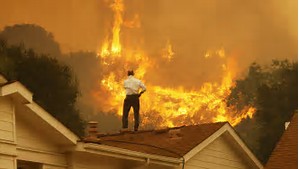 Posted by Tina
Wildfires are the "new normal" according to Governor Brown, and we're just going to have to get used to it…obviously Gerry Brown is not a problem solver. But he is a politician and wildfires are valuable political props to be used in furthering the global warming scam. When it comes to the fires burning through our state Brown's first instinct is to throw his hands in the air and cite man made climate change. Sorry folks but there's nothing a rational human being can do.
California does face natural conditions that human beings cannot alter. In southern California the Santa Anna winds are a yearly occurrence around this time. They've always posed a threat for possible runaway fires following California's dry summer season. We also face conditions that La Nina and El Nino bring (drought or flood) and these can contribute to fire and other dangers. Lightening fires are also contributing natural occurrences. These conditions are normal. There's nothing new about them. But we don't have to add fuel to the fires by being poor managers of our forests! Old Moonbeam is blowing political smoke more damaging than smoke from the fires. It's truly an injustice to fail the people so spectacularly. The veiled shaming and blatant lies are bad enough but then to tell us we must simply get used to it!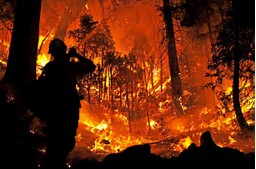 Brown is no leader! He is a politician and political posturing, based on false information backed up by faulty science, is the "new normal" for him and all of America's Democrat Party elites.
Never fear, help is on the way. The Trump administration is interested in solving problems. Wildfires have been recognized as a major problem deserving of our national government's attention. Last September Secretary of the Interior Ryan Zinke directed the heads of the bureaus under him to take more aggressive action in managing our national forests:
"This Administration will take a serious turn from the past and will proactively work to prevent forest fires through aggressive and scientific fuels reduction management to save lives, homes, and wildlife habitat. It is well settled that the steady accumulation and thickening of vegetation in areas that have historically burned at frequent intervals exacerbates fuel conditions and often leads to larger and higher-intensity fires," said Secretary Zinke. "These fires are more damaging, more costly, and threaten the safety and security of both the public and firefighters. In recent fire reviews, I have heard this described as 'a new normal.' It is unacceptable that we should be satisfied with the status quo. We must be innovative and where new authorities are needed, we will work with our colleagues in Congress to craft management solutions that will benefit our public lands for generations to come." (see Zinke's full memo at link-scroll down)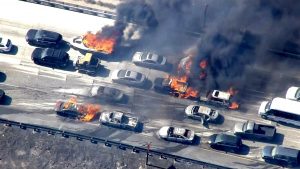 California is governed by left politicians who will "resist" these orders, a stupid move when you think about the costly devastation from the most recent fires in SoCal and the wine country areas of California.
Obviously our government can't prevent all forest fires but the actions ordered by Secretary Zinke can make a big difference if implemented.
Hmmm…we in California might consider put petty criminals to work clearing overgrown brush and dead wood (community service). Or, how about giving the job to capable homeless folks in exchange for room and board…or a tuition account for a trade school? They could earn their way to a new life!
Your thoughts?