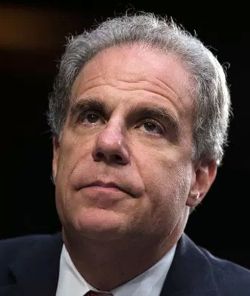 Posted by Tina
The Justice Department's Inspector General report on the FBI's handling of the Hillary Clinton email investigation has finally been released. Information from the report is trickling into the media.
The full report is here. Here we go…
Breitbart-Big Government, "Report: Peter Strzok Vowed 'We' Would 'Stop' Trump from Becoming President"
Bloombergs, Jennifer Jacobs:
"Several FBI employees Who played critical roles in the investigation sent political messages," IG report says.

It cites Lisa Page text to Peter Strzok: "(Trump's) not ever going to become president, right? Right?!"

Strzok: "No. No he's not. We'll stop it."
Initial reporting to Congress on this exchange didn't include (purposely?) Strzok's response.
DOJ confirmed the authenticity of the email content.
Gateway Pundit, "BREAKING: IG Report to Weigh in on Hatch Act Violations at FBI 'Officials Using Their Authority to Interfere With an Election"
Investigative reporter Paul Sperry says the IG report will weigh in on Hatch Act violations at the FBI.

(Paul) Sperry tweeted: BREAKING: Bombshell IG report to weigh in on Hatch Act violations at FBI — specifically, employees using their official authority or influence "to interfere with or affect the result of an election"

Sperry also cautioned: IG Horowitz and Comey go way back to the 90's as US Attorneys in New York…and his wife gave money to Obama:
CAUTION: IG Michael Horowitz and James Comey worked together in 1990s in US Attorneys office in Manhattan. In addition, Horowitz married to former CNN and PBS producer, who gave money to Obama and who previously worked as a senior aide to Dukakis during presidential campaign
It's hysterical of course but apparently they found "insubordination" on Comey's part but no "political bias"… his actions "damaged bureau image"
Image! Who cares about image. What about the rule of law? What about evidence that Hillary Clinton and others broke laws and seem to be getting away with it while her lessers in government are given jail sentences for lesser crimes? don;t we deserve a court ruling on that rather than a government department opinion? Well…
Horowitz said that five FBI officials expressed hostility toward Trump before his election as president and disclosed in his report to Congress on Thursday that their actions have been referred to the bureau for possible disciplinary action.

One example cited in the new report is an exchange of texts between FBI officials Peter Strzok and Lisa Page on Aug. 8, 2016. Page questioned whether Trump would become president. Strzok replied: "No. No he's not. We'll stop it."

Under those circumstances, Horowitz said "we did not have confidence that Strzok's decision to prioritize the Russia investigation over following up" on new evidence in the Clinton case "was free from bias." …

… the inspector general called it "extraordinary and insubordinate for Comey to conceal his intentions from his superiors, the Attorney General and Deputy Attorney General, for the admitted purpose of preventing them from telling him not to make the statement, and to instruct his subordinates in the FBI to do the same."

He said that "we did not find that these decisions were the result of political bias on Comey's part," but "by departing so clearly and dramatically from FBI and department norms, the decisions negatively impacted the perception of the FBI and the department as fair administrators of justice."

The report also noted that Comey used personal email at times to conduct official business.

Horowitz examined actions taken by top officials before the 2016 election, including the handling of the investigation into Clinton's use of a private email server when she was secretary of state. The inquiry expanded to touch on an array of politically sensitive decisions by officials including Comey and former Attorney General Loretta Lynch.
We await the announcement, if any, of referrals to the AG for indictments. Not holding my breath. So far those in government seem ultimately to cover for each other.
Washington Times, "FBI orders bias training for employees after latest embarrassing emails"
The FBI will make its employees undergo bias training, Director Christopher Wray promised Thursday, in one of a number of steps he said they'll take to try to prevent a repeat of problems that plagued the bureau during the 2016 election.

Mr. Wray made the promise in response to the new inspector general's report detailing the stream of text messages from two top FBI employees during the campaign. …

… The new report said that while bias didn't appear to affect the big decisions in the handling of the initial investigation into Hillary Clinton's email practices, they couldn't rule out a role for bias in pushing the FBI to focus on the Russia probe in October 2016, rather than go back to review a new set of emails found on the laptop of Anthony Weiner, who was married to Mrs. Clinton's top personal aide, Huma Abedin.

Mr. Wray said he's ordered a review of FBI procedures and how agents mix their political duties with personal opinions.
More information will follow as journalists and Congress Critters consume the content of this very long report. FBI will hold news conference at 5:30 Eastern today.
Related: <a href="http://www.foxnews.com/politics/2018/06/14/foreign-actors-accessed-hillary-clinton-emails-documents-show.html, "'Foreign actors' accessed Hillary Clinton emails, documents show"
"Foreign actors" obtained access to some of former Secretary of State Hillary Clinton's emails — including at least one email classified as "secret" — according to a new memo from two GOP-led House committees and an internal FBI email.

Fox News obtained the memo prepared by the House Judiciary and Oversight committees, which lays out key interim findings ahead of next week's hearing with Justice Department Inspector General Michael Horowitz. …

… "Documents provided to the Committees show foreign actors obtained access to some of Mrs. Clinton's emails — including at least one email classified 'Secret,'" the memo says, adding that foreign actors also accessed the private accounts of some Clinton staffers.

The memo does not say who the foreign actors are, or what material was obtained, but it notes that secret information is defined as information that, if disclosed, could "reasonably be expected to cause serious damage to the national security."

The committees say that no one appears to have been held accountable either criminally or administratively. …

… Relatedly, Fox News has obtained a May 2016 email from FBI investigator Peter Strzok — who also is criticized in the House memo for his anti-Trump texts with colleague Lisa Page. The email says that "we know foreign actors obtained access" to some Clinton emails, including at least one "secret" message "via compromises of the private email accounts" of Clinton staffers.