by Jack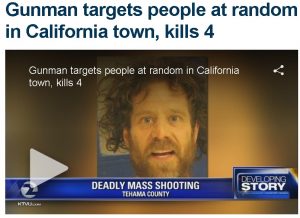 One of the phenomena's of this age is the rise of the active shooter situation.
We now see classes popping up on how to deal with this in many communities, often taught by law enforcement.
It's just my opinion, but because of politics the cop taught  classes tend to be overly cautious re when to pull the trigger.  Why?  Because cops, unlike NRA instructors, are laser focused on being harassed after any shooting, good or bad.  They worry too much about what will happen afterwards, such as, protests, defamation of character, lawsuits, trial, loss of employment, etc.   But, now I am getting a little off point.  Sorry.
Ready for some good news?  Another active shooter situation happened in Oklahoma City, where the bad guy was hosing down people with a pistol.  Being it was Oklahoma city and not Berkeley, several armed citizens retrieved their weapons from their pick up trucks and immediately advanced towards the gunman.   They tried to get him to drop his weapon, but he refused.  Bad choice.  A brief firefight took place and the gunman was shot dead. Then the cops arrived.   However, it could have been 2 or 3 citizens shot dead, then the cops arrived had it not been for the courageous armed citizens or if it had taken place in Berkeley.
The FBI examined 160 such shootings between 2000 and 2013 and found that most of the violence ended when the assailant stopped shooting, committed suicide or fled.  But, those actions could have resulted from armed citizens and in my book that's just as good as plugging him.
What we do know for sure, is that unarmed citizens successfully restrained shooters in at least 21 of those incidents, and so says the FBI.  Two attacks stopped when off-duty officers shot and killed the attackers. Five ended in much the way the attack above did — when armed civilians exchanged fire with the shooters.
In two prominent recent examples, civilians have, as in Oklahoma City, successfully
intervened in mass shootings. In November, Stephen Willeford, a former NRA instructor, shot a gunman who killed more than two dozen people inside a Sutherland Springs, Tex., church, hitting the attacker twice. The shooter fled and later shot himself in the head while under chase.
More good news.  In June, a pastor and volunteer firefighter who had been through active-shooter training killed a carjacker who opened fire inside a Walmart store in Tumwater, Wash.
Meanwhile back in CA the Demoncrats are doing everything possible with their virtual dictatorial powers to limit your gun rights.  They limit your gun ownership, they drive gun brokers out of business or out state and they prevent low cost gun importers out of the state too.  What does that say about CA's demoncrat leadership?   Our high taxes, high regulations, wasteful spending and legislative corruption should be your first clue.