by Jack
CNN- "Pipe bombs were sent to former President Barack Obama and former Secretary of State Hillary Clinton, as well as to CNN's offices in New York, sparking an intense investigation on Wednesday into whether a bomber is going after targets that have often been the subject of right-wing ire.
A law enforcement official said the three devices were similar to one found Monday at the home of George Soros, the billionaire philanthropist and liberal donor.
None of the devices harmed anyone. Law enforcement officials said they were investigating whether all the devices were sent by the same person or persons."
UPDATE: 24 OCT, 2000 hrs. – More so-called pipe bombs have been discovered, sent to other well known democrat leaders.  So far it appears to be one huge hoax, none of the bombs appears to be capable of exploding.  In fact they were made from PVC plastic, not lead pipe and the contents did not resemble any known explosive substance.  Also, none of the devices had the earmarks of a real bomb, such as being packed with nails, ball bearings, etc., or filled full of gun powder.  Instead most were nearly empty, just packed with a few wires for looks and something taped on on the outside resembling a timing device.
If this [was] a politically motivated prank, it could land the responsible/s in a lot of trouble.  It's illegal to scare someone with a fake bomb.
————————-
It's far too early to tell who may have sent these devices, but looking at this through the eyes of a criminal investigator, here's what we know for a fact and what was highly suspicious.
The first three things any good investigator takes into consideration for this type of crime is, motive, ability and opportunity.   Motive- who stands to benefit the most?  Well, that's pretty obvious, any democrat running for election was just given a huge talking point and a podium.  (Pictured below – a movie prop bomb)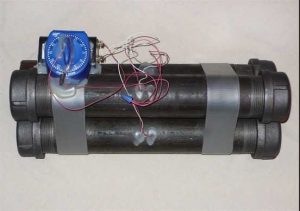 Ability – Not really relevant at this point because making a pipe bomb is extremely easy. The information is readily available on the internet.   Any idiot can make a pipe bomb. (funny video linked)
Ability 2 – Who would have the inside knowledge about the intended victim's home addresses?  For example, would a bomb building redneck in South Carolina know the home address of George Soros?  How about his own address?
Now lets look at it from another angle.
Clinton and Obama are essentially political has-beens, what profits anyone on the right from harming them?  If it were not for the pipe bombs they're not headline material anymore.   Soros [is] a more understandable  target, if you are looking for a right-wing extremist, but what about Debbie Wasserman-Schultz?  She's the former DNC chair ousted for dirty tricks.  The FBI is currently trying to determine if she was even a victim, because all we have at this is she received a suspicious package and police/FBI are there checking it out.
What we know for sure is, the packaging of the bombs is all similar.  The abundance of postage on it's package is similar.  The construction of the bombs is similar.  The timing of mailing is similar and the (alleged) intended victims are all notables within the democratic party, all very much connected.  Same could be said for CNN. (Actual fake bomb shown on right)
We have two theories that immediately surface.  Theory one, this is the work of a hate-filled, rightwing extremist, out for vengeance!   Allegedly, the left and right have been divided by the hate speech coming ONLY from rightwing talk radio and FOX news.  This is bringing out the kooks on the right like never before, so say the democrats!
On balance, we all know the leftwing extremists have done their fair share of violence (softball park shootings) and intimidation lately, so perhaps this is a little payback? Okay, it's a somewhat plausible theory and it could easily establish one of the basic elements… motive.
But, it takes a fair amount of sophistication to come up with the unpublished addresses of these (alleged) victims and that doesn't line up with the construction of crude devices that were so obvious they were detected and not one person was injured.  If a suspect/s had the wherewithal to locate these confidential addresses you might think they would have done a better job at disguising these crude devices, right?
The second theory says, look at the timing.  It comes suspiciously just before an election. The sympathy and media focus could only favor one side, the democrats and their candidates.  At the same time it casts a dark shadow on the Trump followers and it gives the left plenty of media coverage.
This benefit would appear to be an even stronger motive than the first – revenge.  Because this motive could actually sway a key election that democrats are desperate to win.  In the words of Vice President Biden, "This is a big f'g deal."   CNN might be a little desperate too given their plummet in the ratings.  They can sure use this publicity, what a break for them!
Would this be the first time in history that the folks on the far left have used a headline story for their own political benefit?  Or better yet, where they have tried to falsely implicate republicans in some sort of scandal or criminal misdeed?  No, it would not.
Remember when the Tea Party guy that allegedly spat on a black Congressman entering the Rayburn building in Washington D.C.?  Never happened, as TV footage would late prove.  Obama started a string of false accusations against police (an quasi icon of conservatism).  Obama has been the Prince of divide of conquer whenever possible and/or  plausible deniability (Bengasi).   Kinda hard to keep an open mind when it comes to dirty tricks and democrats isn't it?
Most recently we have witnessed the extreme lengths dems in Congress will go to impeach the character of Justice Kavanaugh.  And lets not forget the false Russian/Trump collusion evidence used by the FBI to damage Trump's election.  Turns out it was paid for by the Hillary campaign and after 14 months of intense investigation it remains completely unsubstantiated.  Again, the timing was also right before a key election.  If you are suspecting that someone on the left was responsible for this, I can understand why.
Damaging the opposition days before an election is a time honored tactic of the democratic party.  Now, I'm not saying this incident was a conspiracy of the dems to change an election, I'm only saying you would be foolish not to at least consider the possibility of this being a motive while looking for the suspect/s.
All being said, lets remember, its prudent to withhold our judgement until all the facts come out.  However, if this case is solved, you can almost be assured it won't be until after the Nov. election…. and that would be a very lucky break for the dems.