by Jack
Finally, the long overdue rain has arrived. This signals the beginning of the end for California's nightmare fire, the worst natural disaster in California's history.  The fire broke out near Camp Creek Road a week ago and soon it was moving swiftly up a hillside towards the hospital.
Gusting winds fed the fire and caused large burning embers to be flung high into the sky and into the town of Paradise.  Because these embers landed well beyond the main fire line, they seeded dozens of other spot fires that quickly took hold in the dry thatch beneath the tall pine trees that dotted the landscape of Paradise.  Responding fire units simply could not reach them all and that's when firefighting turned to evacuating and saving lives.
The wildfire spread so quickly, it  complicated the city plans for a quick evacuation.
Slow moving vehicles were often three abreast, bumper to bumper, on two lane roads.  The escape routes were not enough. For some, their story ended in a long line of cars.  For others, the horror had only begun;  they leapt from their vehicles and  ran amid the burning embers, barely ahead of tall flames.  There were exploding gas tanks behind them and even larger explosions on their flank from nearby propane tanks.  And that only added to their horror and imperiled their lives.
The death toll now stands at 81, after state fire authorities said that two more sets of human remains were found Tuesday. Finding human remains among the debris is an incredibly difficult process made even worse by the rain.  There's so little left to be identified.  It is expected the death toll will rise sharply in the coming days due to the large number of residents still missing… about 700.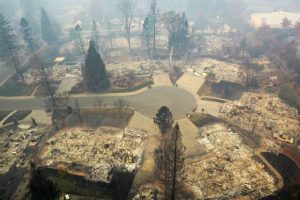 The Camp Fire has burned more than 155,000 acres and is close to 80 percent containment. 12,637 residences, 483 commercial structures and 3,718 other buildings were destroyed.
For most of us spared from the path of this fire, this much prayed for rain signals the beginning of the end.  However, for many others the rain is of little consolation.  Those people have lost everything.  Their homes that were filled with countless memories, heirlooms passed from generation to generation, photos of those priceless family moments, they're all gone now.  Everything has been turned into greyish-white ash.  And now with this rain, the ashes float away on trickles of water that will soon merge into little streams of water that slip between the rocks, eroding the mud, then onto sidewalks and into the streets, flowing further and further away from their points of origin.
The rain will continue through Friday and soon the last of the Camp Fire will soon be declared over. Unfortunately, the visible scars that were wrought by this fire will be with us for many years and the invisible ones… a lifetime.