by Jack
The Wall Street Journal had a great op-ed piece that was noted in comments 10/28/19 by reader RHT.  Among the more salient points of the article was this quote,  by the governor of California,  "It's about dog-eat-dog capitalism meeting climate change. It's about corporate greed meeting climate change. It's about decades of mismanagement," Mr. Newsom declared.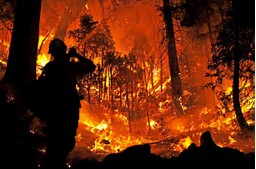 The governor just told a whopper of a half lie.    Yes, it's about mismanagement alright, but most of that comes straight from the progressives ruining the State of California and their eco-warrior mentality.
The State of CA was duly warned many times by PG&E and others about the possibility of uncontrollable wild fires.  This started nearly three decades ago when the State first forced PG&E to stop spraying pre-emergence under their transmission lines and electrical towers to control growth.
The State's concern then and now was laser focused on the chemicals that [might] in some small way impact local habitat.  So, the state was willing to completely stop the spraying and let combustible materiel accumulate to dangerous levels on the forest floor and around transmission lines.  Clearly, this was a setup for disaster and now we have a huge, dangerous mess, thanks to liberals in State government who blocked every attempt at fire prevention on wildlands.
The state PUC regulates everything PG&E does and they have the authority to fine PG&E up to $50,000 a day for safety violations.  However, in the last 20 years they have issued zero, zip, nada citations for safety violations.  THIS IS THEIR FREAKING JOB!   Instead the PUC continually sided with the environmentalists and against PG&E to halt any form herbicide spraying.   They have also forced PG&E into spending money for so-called green projects rather than basic maintenance of power lines.   When you lift the lid off this one and look deep inside you will find the State of California the real culprit here.
This is not about corporate greed as Gov. Newsome claims, it is about decades of stupid government interference and eco-incompetence and the democrats own it…100%.  This latter part is not what the governor wants you to know.  But, it's rather obvious given the state of wild fires right now.   PG&E has the evidence to back up what I'm saying and I hope they come forward.  I wish we could all sue the state for its gross government failures to protect the citizens from these horrific wild fires.
Did you know your utility rate in CA is twice that of Oregon and Washington and look at the forested land they have!  How is that possible?
Something is seriously wrong in CA and the progressives are behind it…again.
And now this from the WSJ …" State law mandates that utilities obtain 33% of electric generation from renewables such as wind and solar by 2020 and 60% by 2030. Utilities must spend hundreds of millions of dollars each year to reduce the cost of green energy for low-income households. PG&E has prioritized political obeisance over safety."  That's because they are partly controlled by the idiots in government!"  See what I mean…CA is stuck on stupid.