by Jack
Acrylic on canvas 20X24, P51 Mustang with invasion stripes.  All comments welcome!
Unique to the P-51 was the laminar flow wing design which was developed by the US National Advisory Committee for Aeronautics (NACA). Contemporary aircraft wings featured a wing cross-section with maximum thickness about a fifth of the way across the wing from the leading edge with most of the camber on top of the wing. The laminar flow wing in contrast has its maximum thickness well aft from the leading edge and has almost as much camber on top as on the bottom. This feature reduced turbulent flow across the wing, thereby reducing drag and increasing speed and range. Drag was also reduced by positioning a ventral radiator underneath the rear of the fuselage to present the smallest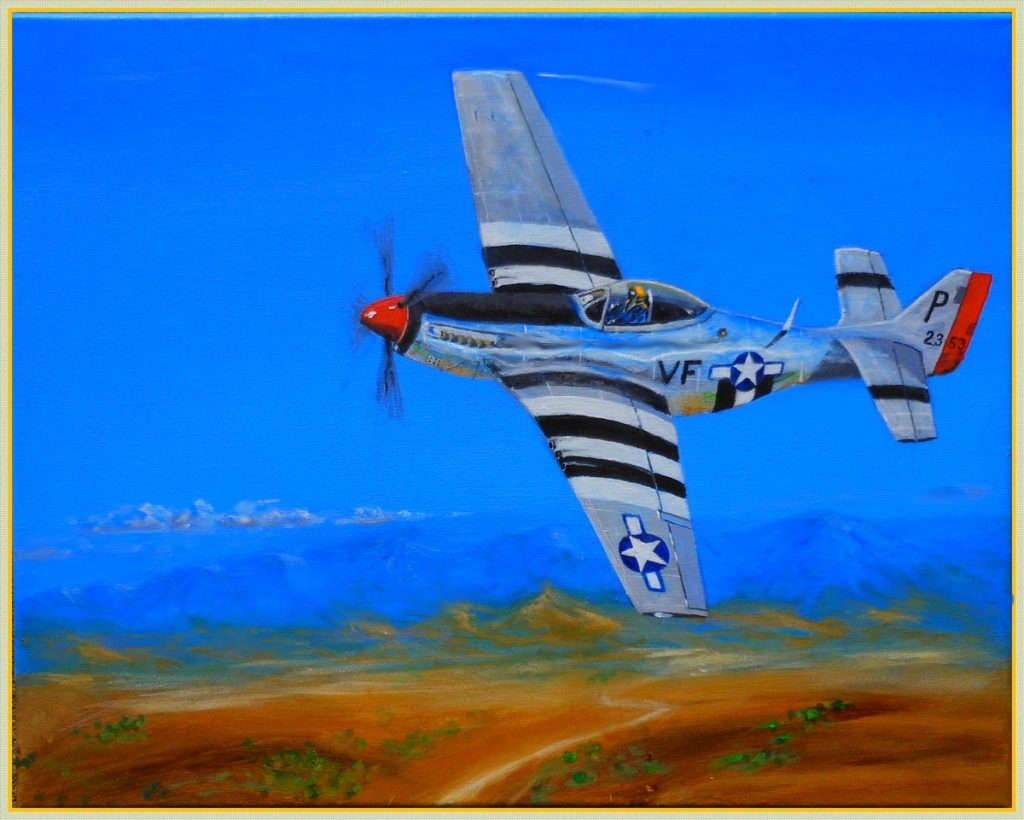 possible fuselage cross section. The British Purchasing Commission was enthusiastic about the plane and confirmed a production order for 320 Mustang Is. This was later increased by 300 for NA-83s which differed only in minor details; the British designation was Mustang IA.7 Powered by the 1,100 hp Allison V-1710-39 engine, the airplane's performance was only impressive up to 15,000 ft. However, performance would be dramatically improved once the airframe was matched with the Rolls-Royce Merlin engine. This is not to say that the Allison wasn't a good engine as it performed very well on the Lockheed P-38. The problem with the Allison had more to do with the USAAF's heavy reliance on turbo-supercharging.