by Jack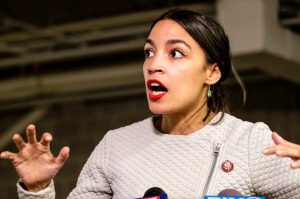 Washington Herald – Friday on the floor of Congress Alexandria Ocasio-Cortez made history by challenging  Section 1 of Article 2 of the U. S. Constitution;  Which reads, "In order to become the President or Vice President of the United States, a person must be a natural-born citizen. "
Representative Alexandria Ocasio Cortex was visibly outraged when she cited how contemptable,  arbitrary and discriminatory this law is today!   American people need to wakeup, times have changed, this is the 21st century! Alexandria Ocasio-Cortez decried.
Rep. Cortez dramatically implored Congress, "I ask you now to throw off the bonds of oppression that were established so long ago by rich white people!  Declare with me that all, yes ALL, people are equal, even if they were………..(wait for it)……….. born  by  C-section!"
And with that she smiled broadly, spun on her heels and triumphantly pranced away from the representatives podium amid the dead silence of her stunned, wide eyed colleagues.  Speaker Nancy Pelosi fell back in speaker's chair and she reached for a bottle vodka.  Republicans erupted in guffaws, with some rolling on the floor with laughter.  Congress had to be adjourned to restore order.
UPDATE – When candidate Joe Biden was asked about AOC's protest speech in Congress, he said he was absolutely sure he was natural born, but supports AOC anyway.
PS  Thanks Harold