posted by Jack
The following is an actually New York Times article about the shooting of Jacob Blake, a black man in Kenosha, Wi.  As I read the story, I took the liberty of inserting my thoughts shown in italics.
New York Times -  Across the street, a police officer was aiming his gun at Jacob Blake, her neighbor, as he tried to get into his car with three of his children in the back seat. The officer grabbed him by his shirt and fired several times, shooting him in the back.  What a setup for the story!  Here's a nice family man, could be your neighbor and he was attacked by the mad dog police.  If this was all you knew you might want to rush out and set fire to, oh I don't know… a  furniture store?   Well, lets go to the next paragraph and see exactly why the police officer shot Jacob Blake.    
Within hours, graphic video of the shooting was racing across social media, and Kenosha erupted into protest, looting and fires downtown.  Ok, this is interesting, but get to why the cop shot Mr. Blake? 
Sign Up For the Morning Briefing Newsletter   I'm not going to sign up for nothing until you tell me why the cops shot the guy!  Where's that?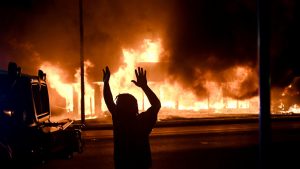 By late Monday, 125 members of the Wisconsin National Guard had been deployed to Kenosha, and hundreds of demonstrators marched through the streets in a second night of protest, in defiance of an 8 p.m. curfew. Near the county courthouse, officers tried to disperse the crowd with tear gas as protesters threw water bottles and set off fireworks near a line of officers in riot gear. A furniture store was set afire, and street lamps were knocked down.  Ok, Ok, this is all very interesting, but it doesn't explain why the cop shot this guy?   
The scene of a white police officer shooting a Black man continues to occur with devastating frequency in the United States, even at the end of a summer marked by widespread protests and calls for reform after the killing of George Floyd in Minneapolis. The killing of George Floyd is being invoked now, are you kidding me?  Are you trying to start a riot?  Why are you avoiding answering my question?  Why, why, why … DID THE COP SHOOT THE BLACK GUY?    
Kenosha, a city of 100,000 that a generation ago was a car making powerhouse, is the latest place where a police shooting left residents reeling. The shooting, which was captured in a brief but searing video by another neighbor, drew immediate condemnation from Gov. Tony Evers of Wisconsin, a Democrat, and set off protests throughout Kenosha's small downtown area on the shore of Lake Michigan.  THE DEMOCRAT GOV. CONDEMNED THE SHOOTING ALREADY?  If everyone, from people on the street right up to governor knows the whole story, why won't you  just tell the rest of us out here in CA?  Why do you keep avoiding what a normal person would consider a key part of this news story?  What kind of news journalism is this or is it even journalism?    
The shooting instantly became a rallying cry for demonstrators in cities like Portland, Ore., Madison, Wis., and Chicago, and a topic in the presidential race, where Wisconsin is a crucial battleground state.   Why bring this up before you have disclosed why the cop shot this man???  I'm seeing a pattern here and it doesn't look good for the NYT.  You are not reporting facts,  I THINK YOU ARE INCITING FOR RATINGS!
On Monday, as Republicans were kicking off their national convention, Joseph R. Biden Jr., the Democratic nominee for president, spoke out against the police officer's actions. "The nation wakes up yet again with grief and outrage that yet another Black American is a victim of excessive force," he said.   OMG…. BIDEN?  WHY NOT INVITE OBAMA TOO THEN WE CAN HAVE A REUNION?   Alright, so sleepy Joe said, the cops used excessive force?  How does Biden instantly know that?  Did someone tell him what to say?  Why didn't you ask him why he blames the cops?   
You are the freaking New York Times, will you please stop avoiding the meat of this story, WHY DID THE COPS SHOOT THIS GUY?!!!!!
Around Kenosha on Monday morning, dump trucks that had been set ablaze outside the county courthouse were still sending an acrid smell through the air. Stunned shop owners swept up glass that had been smashed overnight, and boarded up their storefronts with sheets of plywood.  ENOUGH… but apparently it's not enough, not for the writers of PRAVDA.    
The police offered little detail about what had happened in the shooting, saying only that an officer had shot Mr. Blake while responding to a domestic incident. Local and state officials declined on Monday to provide detailed information about the officers who responded.
Mr. Blake, 29, was in stable condition at a nearby hospital on Monday.  That's good to know, because all this time I thought he was dead?  Nice to finally get around to telling us that little fact. 
The investigation was immediately turned over by the Kenosha Police Department to the Wisconsin Department of Justice, and the three officers who were at the scene were placed on administrative leave.
"What I saw in that video is disturbing," said Anthony Kennedy, a Kenosha alderman who represents Mr. Blake's district. "It is heartbreaking. And I don't have an answer for what happened."  You don't have an answer, but do you even know why the cop shot this guy???!!!  Seems like that would be the first step to getting an answer. 
While body cameras have become standard in many police departments around the country, they have been a matter of debate in Kenosha. Police officers in the city do not wear body cameras now, though the city plans to start using them in 2022, city officials said. Police cars are generally equipped with dashboard cameras.
Neighbors described an ordinary Sunday afternoon that suddenly and swiftly turned violent.
Shortly before the shooting, Mr. Blake, who worked as a security guard, stopped next door at the apartment of a friend, Donnell Lauderdale. Mr. Blake was carrying gifts for Mr. Lauderdale's 8-year-old son.
"He had a bag full of presents," Mr. Lauderdale said, standing outside his home. "He's a family man. He takes good care of his kids." Three of Mr. Blake's six children — aged 8, 5 and 3 — are believed to have been in the back seat of the car when the shooting took place.
Benjamin Crump, a lawyer for the family, said in an interview that he had been told that Mr. Blake was attempting to intervene in an argument between two women when the police arrived.  Benjamin Crump… hmmmm, where have I heard that name before?
In a video taken from an apartment window across the street, several officers can be seen standing on a sidewalk next to a four-door S.U.V. The man identified as Mr. Blake, wearing a white tank top and black shorts, is seen walking along the passenger side of the vehicle, away from the officers, who are yelling. At least one of them points a gun at him.
I'm not the freaking leftwing New York Times, but I just found out from several sources that the cops are trying to disarm BLAKE, that he was carrying a knife and its shown in one of the pictures.  BLAKE allegedly said he was going to get a gun out of his car.   Then he goes to his car and the cops are shouting stop! Stop!  Drop the knife!  Stop, don't move and words to that effect.  As you might imagine things are pretty tense at this moment and this guy doesn't stop?  He doesn't drop the knife and he opens the door to his car and tries to do something (we can't see what) INSIDE THE CAR! 
If you want to die, this is a great way to get it done. 
You fight with the cops, you keep police at bay holding what appears to be a knife, that's a threat and then you refuse lawful orders of the cop who has a freaking gun trained on you, it never ends well, no matter what color you are.  And how do you reply to the police?  You ignore the cops orders and virtually dare them to shoot you as you tell the cops you are going to get a gun from your car and then you head for your car and enter it!  That's just brilliant.  Okay, back to this lame, biased NYT story that already has the cops convicted of murder.  
Now the NYT repeats what I just said, Mr. Blake walks around the front of the vehicle and opens the driver's side door. Several people can be heard yelling, and one officer is seen grabbing Mr. Blake's shirt. As Mr. Blake opens the vehicle door, at least half a dozen shots are heard, while at least two officers can be seen with their guns pointed at him. The video, which is about 20 seconds long, ends shortly after the shooting.
"The police haven't told us why they did what they did to him," said Mr. Crump, a civil rights lawyer who has also represented the family of George Floyd. "Being a Black man in America, he was suspicious automatically."  Really Mr. Crump?   Pouring a little gasoline on the fire are we?  And why do you think it's the duty of the police to report to you when they have an investigation underway.  I bet the local citizens appreciate you stirring the pot.   How did you happen to show up so fast, did you smell the faint odor of sweet money and printers ink and follow to the crime scene?      
In Kenosha, which is about 11 percent Black, 17 percent Hispanic and 67 percent white, many residents told of longstanding tensions between Black residents and the police. The mayor, the police chief and the district attorney are white. OMG, well, there it is, a white conspiracy!   I knew it if this story went on long enough it would include that at some point.  Wouldn't' be much of a story if it didn't find a way to portray whites against the innocent and oppressed blacks.  I swear this country is going to explode one of these days and I'll betcha the NYT will have been happy to have lit the fuse!  
Nick Neumann, 36, who is white, spent part of his day picking up trash in Civic Center Park, where much of the unrest on Sunday occurred.  I wonder if Nick was wearing his KKK janitor uniform? But, I digress.  
He said he had a conversation a few days ago with an uncle, a police officer in Kenosha, who said that he has seen more tension than ever between residents and police officers, more anger and animosity on both sides.  Yeah, and people like Crump and politicians like the governor who pronounced a guilty verdict before he had the facts, won't be making life any easier in Kenosha.  
"There's been a growing disconnect here for years," Mr. Neumann said. "There's always been an underlying distrust for the police."  That's the national narrative isn't it?
Erik Adams, a neighbor of Mr. Blake's who is Black, said he was newly terrified of the police after seeing what had happened. He had fielded several phone calls on Sunday from friends who were worried that he might have been the one who was shot.
"I understand why people are angry," he said. "Black people want justice."
The Wisconsin attorney general, Josh Kaul, vowed to "vigorously and fully investigate the facts of this case," but said he was not ready to comment on the details, including information about the officers on the scene.
"Our pursuit of justice is going to be unwavering," he said Monday at an afternoon news conference.
Though Mr. Kaul, a Democrat, is leading an independent investigation, he said the decision to prosecute the case would be made by the local prosecutor. The Kenosha County district attorney, Michael D. Graveley, said his office would decide whether to press charges based on the evidence gathered by the outside investigators.
"We are going to try to do this as quickly as we can," he said, but "these kinds of huge decisions, in a community that is hurting as badly as we are today, are not decisions that can be made in haste, and they are not decisions that can be made before we have the complete information."  Yeah, better give em a week to riot and loot a bit.  And then either find a pretext to blame the cops or do the really hard part…. find a way to tell the truth!  Explain to everyone how the cops did nothing wrong and everybody got excited over nothing really.  . . just a big mistake.  Maybe try to chuckle a little little, "Well, shucks, guess the jokes on us.   A little mistake, nuthin to see here, uh, lets move along now and oh yes, one more thing… vote democrat!"  
"We ask people to be as patient as they can," he added. "We support all advocacy that is peaceful. I've had thousands of emails today from people who are quite appropriately expressing their strong feelings about this case."  "Quite appropriately…"  I can hardly wait for you to "ask" the rioters to behave and not burn and loot.    
Mayor John Antaramian of Kenosha spoke at the afternoon news conference, which was abruptly moved indoors because of safety concerns.  Should have been moved to Moscow. 
"People are mad," he said. "People are upset. There are a lot of reasons for that — a lot of good reasons for that.  Oh sure, and mostly the reason is because the news is not telling the whole story and is trying to start something that will create more headlines.  But in the end, the only way this country and this community survives is if we learn to listen, and right now I'm afraid we are having trouble doing that."   Ya think?!!!
The shooting quickly set off a partisan showdown in a state where divided government — a Democratic governor and a Republican-held Legislature — has led to repeated clashes over policy.
Governor Evers announced that he was calling state legislators to a special session next week to consider measures on police accountability and transparency. The measures were first put forth by Mr. Evers's administration in June after the killings of George Floyd and Breonna Taylor, but were not taken up by the Legislature.  Yeah, you remember the killings of George Floyd and Breonna Taylor, the cops were all found guilty of… uh, wait there hasn't been a trial yet?!!!!   How do we get to the "killings of….?"  A trial determines if it was a wrongful killing.  Suppose it turns out to be a medical death for one and a justifiable shooting for the other?  Somebody is gonna have a lot of explaining to do then. 
"This movement has touched every corner of Wisconsin, and frankly, I should not need to call a special session when people across our state — from the streets of my small hometown of Plymouth to the streets of Milwaukee — are demanding their elected leaders take action," Mr. Evers said.
But Republican leaders accused the governor of playing partisan politics by quickly calling for a special session, and the fate of that session seemed uncertain.  BLAH, BLAH, BLAH…I'm sick of this story, I'm sick of the race baiting, sick of the leftist propaganda machine, sick of all the liberals and blacks jumping to conclusions and I'm particularly sick of criminals looting stores and claiming they are outraged protestors. 
When the revolution starts will someone please pay the following reporters a little visit and express our dissatisfaction  for their fake news contributions?
Julie Bosman reported from Kenosha, and Sarah Mervosh from New York. Will Wright contributed reporting from Portland, Ore. Kitty Bennett contributed research.