Posted by Jack
Jessica Krug, the embattled historian and African studies scholar who admitted last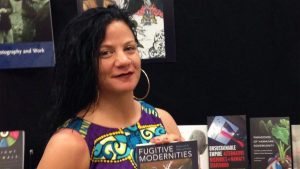 Thursday to impersonating a Black woman, has resigned from her post as an associate professor at George Washington University.
Her resignation was announced by the university in a tweet Wednesday afternoon, explaining that her classes for this upcoming semester "will be taught by other faculty members."
Krug initially shared her story on the blogging platform Medium, where she confessed that she "built her life on a violent anti-Black lie" by claiming a multiplicity of Black identities over the course of her adult and professional life, including being Afro-Caribbean and North African. Krug is, in fact, a white Jewish woman.
She attributed her appropriation of Black identities to "unaddressed mental health demons" from her childhood.
So, she was really a white, Jewish, female?  Well, okay that's weird, but here it is again or is it the same person hoaxing us twice?   This time the faker worked for the NAACP.   Maybe you remember from a few years back. This lady pretended to black and worked as a teacher.  Her parents blew her cover back in 2015.
Rachel Anne Dolezal (born November 12, 1977), also known as Nkechi Amare Diallo, is an American woman known for identifying as a black woman though she is white. She is a former college instructor and former National Association for the Advancement of Colored People (NAACP) chapter president.
Do these two look like they could be the same person?  Dolezal was exposed about five years ago, later on she was reported to be living in New York.  So we have 2 ladies, similar career paths, about the same age, about the same build, about the same facial features, both committing the same fraudulent  act, posing as a black female… that's some coincidence!   Have I just stumbled upon a story that the rest of the mainstream media missed?  What do you think?