(Hockey Player Magazine, August 2013)
To understand a sport you need to play it, even if it's against your own kid.
I watch her play, rain or shine.  I want to know how good she and her teammates are, and I'm curious as to how I match up.  Kate is unaware that I secretly practice.  The annual parent—daughter field hockey game is an unusual way to bond, but family bragging rights are at stake.
My wife and I are field hockey parents and carry on my family's hockey tradition.  We chauffeur kids who cannot drive, lug gear, pace the sideline, and occasionally work the snack bar.  Five year olds with pigtails receive discounts if they're short on change.  Teenage boys wearing pants below the butt don't.  My folks, former ice hockey parents, did the same things years ago except they chaperoned boys and skates instead of girls and cleats.
Field hockey parents coordinate family schedules, pre-plan driving routes, and haul life preserving sustenance such as food, water, and Gatorade®.  We listen to One Direction, Adele, and Maroon 5.   We overhear scuttlebutt about fashion, homework, and relationships.  The girls actually communicate without Facebook.
The game is dynamic and fast.  Players change directions on the fly, pursue the ball, and hope to establish control.  Field hockey is similar to ice hockey, the sport my brother Kirk and I played, except it has eleven players instead of six, turf instead of ice, a ball instead of a puck, and players wear skirts instead of pants.  Otherwise they are exactly the same.  Kirk and I loved checking opponents.  High school girls typically don't have this killer instinct.  Kate is tough, but too nice.  Politeness works when passing dessert but not when passing a field hockey ball.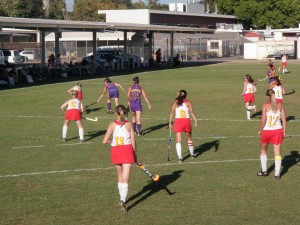 Before the season started I bought Kate a stick, cleats, shin guards, eyewear, and a mouth guard.  She also needed black spandex to wear beneath the skirt.  Where do dads find spandex underwear?  I haven't worn spandex since that one college party.
The spandex quest reminded me of my dad's creativity before Kirk's first hockey game.  My brother was six.  His coach inspected the players for cups, a plastic guard that protects the privates, even miniature sets.  Dad ran to the car, found a can of WD-40®, removed the plastic cap, and returned.  He wadded toilet paper inside the cap and shoved it in Kirk's underwear, ingenious.
I overcame the spandex hunt and watched Kate's team.  They muffed passes and ran a step behind their competition.  How hard is it to pass?  Just hit the ball.  I debriefed with Kate after one game while her teammates listened.  They issued a challenge.
"Coach Deanna scheduled us to play the parents.  See what it's really like."
I couldn't ignore a provocation from the mouths of babes.  "You're on.  I'll score up to 12 goals."
Game day came and the parents met with Coach Deanna for a pre-game speech.  Several of us had just arrived from work.  One dad wore jeans.  We'd play two 10 minute halves.  She encouraged us to pass the ball downfield and shoot at the goal.  She also warned the girls not to hack their parents.  "We need them at next week's fundraiser."
The parent team included 40-year-old-ish moms and dads.  I duct-taped my love handles and strapped on knee braces. The moms cinched their sweatpants.  After a minute of play we encountered problems.  We couldn't direct the ball, assuming we even hit it.  We whiffed like beginner golfers and potholed more turf than backhoe operators.  I assumed that my ice hockey experience gave me an advantage but I overlooked one critical rule: in field hockey players only shoot right-handed.  I'm a leftie.
We huffed across the field, north and south, east and west, hunched over our sticks.  Seven minutes later we begged for half-time.  The girls hadn't broken a sweat. The game was scoreless but the parents needed a break.  And an oxygen bar with a masseuse.
The second half resumed with a refreshed parent team.  We scrambled, whiffed, and tripped.  Thus far we were outshot 97 to 3.  Our 0-0 tie lasted until a sophomore scored in the final seconds.    
I kept my promise of scoring up to 12 goals.  I scored none.  Unfortunately today, the older I get, the better I was.  One of Kate's teammates soothed my ego while I unpeeled duct-tape.
"Hey, Kate's dad… you did okay."
Team sports mature the soul and teach critical life skills, like discernment.  I'm relieved Kate discerned not to use her killer instinct on me.  I would have otherwise made her walk home.
Hockey, whether played on a field or rink, is a great game.  It doesn't matter that Kate can't skate or whether I can shoot right.  What matters is that I'm spending quality time with my kid.
###
Read more of Eric's articles at www.etcguy.com or send him a note at eric@etcguy.com.