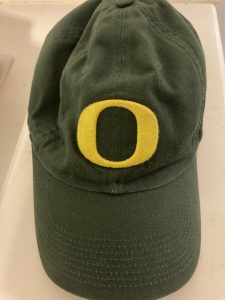 Something audible is heard.  But calling an audible is something to be done.
An audible in football changes a play at the line of scrimmage.  The quarterback reads the defense, recognizes an opportunity then calls an audible, a different play than was called in the huddle. For my case the line of scrimmage was a sidewalk outside the restaurant patio's dining area.
We settled in for a seafood dinner in Florence, Oregon.  September was only two weeks out. For this trip we visited our oldest daughter who lived in Eugene, an hour east.  The dog days of summer along the Oregon Coast are a delight. Skies are blue, the pavement is dry, and you actually need sunscreen.  My daughter, an Oregon Duck, gave me an Oregon ball cap a few years back.  Since I was in Duck country I proudly wore it.
"S'co Ducks!" said one guy as he strolled by.  For the uninitiated, "S'co" is short for "Let's go."  It's how Oregon Duck football fans greet one another.  Bankers, grocers, and even hippies say "S'co Ducks."  To not return a "S'co Ducks" is rude and suspect.  Duck decoys don't mix well with Duck fans.
"S'co Ducks," I smiled back.  "How about those guys?"
"That young quarterback is good," my new friend said.
"If that line protects him he'll be fine.  He's got quite an arm."
"Great receivers, too.  Good hands and quick feet."
I chuckled to myself.  It was time for an audible.
"You know," I said, as I sipped my beer, "Even the back-ups are good.  The depth chart goes four deep.  Like that Johnson kid."
My friend squinted, thinking through the roster.  "Johnson?  Isn't he a red-shirt?"
"Exactly.  Have you seen him run?  I think he played ball in Madras."
"I wouldn't know," I'm from Portland, said my new friend.  "I follow the Portland area players."
"The back-ups are talented.  They could play at any Division 1 school but they chose Oregon.  The third-stringer, a kid from Bend, is the meanest linebacker around.  But he plays on special teams."
"Is that Holloway?" my friend asked.
"Nope, it's Jones.  Then there's Smith, a back-up tight end, I think he's from your area."
My friend stared at the sun.  "Yeah, Smith, his brother played a few years ago."
"The one guy that amazes me though," I baited, "is Brown, a free safety."
"Isn't he from Medford?"
"Sure is.  He can play safety or split end.  He'll make first string someday, you watch."
My friend scratched his chin.  "I need a roster to place these names."
"Don't forget Williams," I added.  "He's a third string punter.  His leg is a cannon.  In one highlight he had four punts that reached the stadium lights.  All kicks went 70 yards—spirals."
"Why doesn't he start?" my friend asked.
"He only punts straight.  No corners, no angles.  You can't pin down teams like Washington or USC if you give 'em touchbacks."
My new friend pondered.  "Man, you sure know Duck football.  Going to this weekend's scrimmage?"
"Not this time," I said.  "We're touring the Coast."
The waitress arrived with our dinner.  Steam wafted from my grilled cod across the patio.
"You take care.  I love talking to Duck fans.  Have a great trip.   S'co Ducks!"
We fist bumped, "S'co Ducks."
My wife and kids gaped at me while passing the condiments.  "How did you know all that?"
"I didn't know anything.  I haven't the foggiest notion who plays quarterback."
"What?!"
"I didn't want to be rude. The guy wore a team jersey and said S'co Ducks."
"But you carried on for five minutes.  You missed the appetizers."
"It's easy to fake a football conversation.  You only need to know a few positions."
"Like quarterback?"
"Yeah, but toss out positions like linebacker, punter, receiver."
"How did you know the names of the third and fourth string players?"
"I didn't.  But I do know that the most common surnames in the U.S. are Smith, Johnson, Williams, Brown and Jones."
"And where's Miller?  You descend from a guy who made flour."
"Miller made the top six.  But I didn't want to patronize the guy."
"So, you just BS'd him," they sighed.  "Pass the tartar sauce."
With a name like Miller it helps to develop the art of BS, especially regarding politics.  Why, I just read that a Nebraska farmer, a fellow named Miller who's also a Cornhusker fan (Husker fan), beat an incumbent named Jones.
Or was it Smith?
###
While you're  here visit the Etc.Guy Facebook page too.