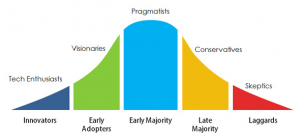 (Central Valley Business Times, December 2015)
Laggards, in marketing lingo, are consumers that ride the tail end of the Diffusion Curve.  Whether it's computers, TV sets or toasters, I am not an early adopter.  I lag.  Every Christmas season (which starts after Halloween), I wrestle with more consumer purchase decision making than the rest of the year.  The bustling crowds, blaring holiday music, and banners promoting BOGO's, only adds to my befuddlement.
In comparison, my wife and daughters shop with the endurance of Olympic athletes.
Continue reading "Post-Christmas Do-It-Yourself Project Stymies Consumer Laggard" »