by Jack Lee
Mixed signals and odd delays plague Obama's Administration.  The President looks like Mr. Dithers, he's confused, aloof and indecisive.
The following is a summary of the timeline and events that have brought us to the point of military intervention in Syria's civil war.  Everyone who votes needs to know this information, epsecially if you voted for Obama.
In the aftermath of the 2003 invasion of Iraq Syria denied that it had chemical weapons, although it was suspected Iraq's chemical weapons may have been shipped to Syria to avoid discovery. Syria refused to sign the Geneva Convention prohibiting the use of such weapons, but in 1968 they made a verbal agreement to abide by the treaty, although they denied possessing such weapons. On July 23, 2012 Syria finally admitted they had a stockpile of chemical weapons for defense against foreign aggression. During the Syrian civil war in August 2012, the military restarted chemical weapons testing. This started a firestorm of controversy and concern that stretched around the world.   At home in America, the use of WMD's in Syria was a legal issue for the UN, but the proliferation of WMD's to others outside this civil war also made it an urgent national security issue.  
On August 20th, 2013 President Obama announced at a press conference that he had drawn a red line on the use of chemical weapons against Syrian rebels. "We cannot have chemical or biological weapons falling into the hands of the wrong people." "We've made it very clear to the Assad regime, but also to other players on the ground, that a red line for us is, if we start seeing a whole bunch of chemical weapons being moved around or utilized that would change our calculations, that would change my equation."
Chemical weapons were allegedly used several times in Syria, and as early as March, 2012.  Evidence of their use was made available to Western nations including the UK, France and USA.
"He seems to have no coherent foreign policy – his credibility is at stake"  Britt Hume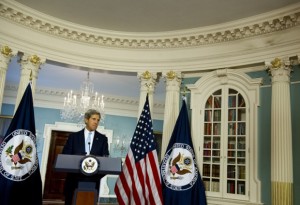 On August 26th, 2013, at the request of the President, John Kerry made one of the greatest speeches ever delivered by a Secretary of State.   In that scathing speech against the Assad regime in Syria he said, ""Let me be clear: The indiscriminate slaughter of civilians, the killing of women and children and innocent bystanders, by chemical weapons is a moral obscenity," Kerry further said. "By any standard it is inexcusable, and despite the excuses and equivocations that some have manufactured, it is undeniable."
Then the oddest thing imaginable happened.   Just hours later President Obama made a second speech that completely undermined Kerry and made him look like a fool.   Obama took the approach that it was not that urgent and he could wait until Congress reconvened on Sept. 9th so he could present his case for a limited strike against Syria.   He would then seek their vote of approval.   I'm paraphrasing Obama, "They are the representatives for the people (of America)"   Apparently Obama was inferring that if he carried out a strike with the approval of Congress then the American people would be responsible for whatever followed because he was only doing their bidding.   Not only that, but Obama would be let off the hook for his "red line" remark that he has failed to follow through on.  He's putting the responsibility for military action on the Congress, not him.  
Following his low keyed Syrian speech, Obama left for a round of golf, which greatly accented the division between Kerry's urgent call for military action in Syria and Obama's, "Let's wait for Congress to come back and we'll discuss it" speech.  
To the world, they both looked the fool, both being completely out of synch with each other!   How could Obama have approved Kerry's speech only to let him twist in the wind hours later and then go golfing?  This is the most amazing diplomatic blunder I've ever witnessed in the last 40 years, even during the Carter years!
To recap, Obama put in place his red line policy.  Then Syria violated it and he did nothing.  Then he dispatched warships presumably to launch an attack of his red line policy and when they were in position… he did nothing.    Then he allowed his Secretary of Defense to make an impassioned speech calling for the necessity of immediate military action…but he still did nothing and worse, he made a request for Congress to make the decisio.    Essentially he left Kerry to hang as he went to play golf.  
Many of Obama's influential democrats do not want any military intervention, ironically Obama must turn to the Hawks in the GOP for support and even more ironically, this places Nancy Pelosi and John Boehner on the same side!
Two House Democrats — Chris Van Hollen (Md.) and Gerald E. Connolly (Va.) — said they were drafting an alternative resolution that would sharply limit the scope and authority for an attack. Charles Rangel, a Democratic Representative, told Fox News said that he doesn't believe it would make sense for the U.S. to get involved in Syria without international support. "I don't really think war-like methods is the way to go," Rangel said. "This is international. Bring together international people!"
A French intelligence report on Monday (2 Sep 2013) alleged that the Syrian regime launched an attack on Aug. 21, 2013 that involved a "massive use of chemical agents" and could carry out similar strikes in the future. It is currently believed that Syria has been manufacturing mustard gas, and deadly nerve agents like Sarin, Tabun and VX.
Today we may have seen a game changer.  A former Syrian forensic medicine expert has provided evidence that the Assad regime used chemical weapons. Abdeltawwab Shahrour, head of the forensic medicine committee in Aleppo, claims there was a chemical attack in Khan al-Assal, Aleppo, on March 19, said Istanbul-based opposition coalition spokeswoman Sarah Karkour. Shahrour has defected to Turkey and has documents proving the attack took place and eyewitness accounts from police authorities that contradict the administration's version of events, a second opposition official said.  This whistleblower could be a key factor to US military intervention.
Today Rand Paul had this to say:  Sen. Rand Paul (R-Ky.) accused the Obama administration of reducing Congress' role in the authorization process for potential airstrikes on Syria to "constitutional theater."
During a hearing before the Senate Committee on Foreign Relations, Paul argued the White House would be "making a joke" of Congress if it left open the possibility that President Barack Obama would proceed with his plan to use military force in the nation even if lawmakers vote against U.S. intervention.
"If we do not say that the Constitution applies, if we do not say explicitly that we will abide by this vote, you're making a joke of us," Paul told Secretary of State John Kerry. "You're making us into theater, and so we play constitutional theater for the president."
"If this is real, you will abide by the verdict of Congress. You're probably going to win," he added. "Just go ahead and say it's real, and let's have a real debate in this country and not a meaningless debate, that in the end you lose and say, 'Oh well, we had the authority anyway, we're going to go ahead and go to war anyway.'"