by Jack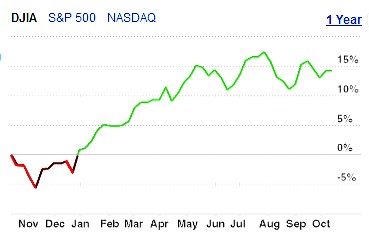 The markets across the board were generally flat today, despite the dire predictions from democrat lawmakers that the sky is falling. It seems the market either doesn't believe them or they have bigger concerns to worry about.   Over the course of the year the market shows an economy on the mend, but ever so slowly. If you look at the chart, and only the chart, you would say the economy is absolutely improving. The chart can't lie, right?  No, but it also doesn't tell the whole truth.
What happens when the gov infusion of $85 billion dollars a month stops? That huge amount of money every month has been feeding the stock market and the mega corporations that it represents.  Let's be clear on this point, for the last three plus years it's been that $85 billion dollars a month in cotton money that is 100% backed by the federal government's promise to take it from you that's been driving the market.    
I'm sure hoping you have the extra money to pay it back?  Because federal government is betting our collective future on it.    Can you afford to pay your share, which is roughly about $52,885 as of today?  I can't. 
The feds are charging you interest on your debt and that causes your bill to go up every day.   Isn't it great that they have so much trust in your ability to earn money and pay yuor debts?    And because they have so much confidence in you to pay they have plans for you to be stuck with a whole lot more debt in the coming months and years.   You are going to pay it, right?   All those in favor of paying and paying signify by voting democrate.
Let me leave you with this final thought;  No matter how much they spend (for you) you are obligated to pay it back and remember, the stock market is literally hanging by a thread if you don't.   Why you, you wonder?   Well who else Bunky?    The government doesn't earn one damn dime, they take everything they spend from the pockets of the people, whether you call it a corporate tax, an income tax, sales tax or fees, etc.,  it's all something that is deducted from your net income.    Gov. can't create wealth they can only spend it; they are a non-profit on steroids! Thank you for holding up the stock market with your credit card.