by Jack
1. Stamps deemed unsafe for children: A run of stamps created specifically to commemorate Michelle Obama's "Let's Move" youth anti-obesity program has been recalled by the cash strapped US Post Office. The existence of the postage stamps in the first place is dumb enough, what kids go to stamps to learn how to skate board? But, because three of the illustrated activities, out of the seventeen total, were deemed by some pinheads as depicting unsafe activity… the entire run of stamps is going to be destroyed.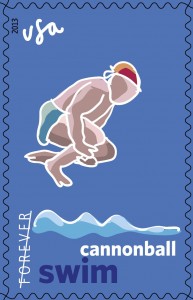 You're probably wondering, what activities could be so blatantly unsafe as to lead our youth into the emergency room? Well, that would be: A cannon ball into a swimming pool, doing a hand stand without an approved safety helmet and lastly, riding a skate board without knee pads! These three terrible things raised safety concerns among sports figures on the President's Council on Fitness, Sports & Nutrition. The so-called "unsafe depictions" came to light after USPS Marketing chief Nagisa Manabe asked Michelle Obama to take part in a first day ceremony for the stamps. That was apparently the first time the stamps had been reviewed by the Sports Council. We've become a nation of little girls and pinheads!
2. Unlimited EBT cards: Those on Welfare are issued an Electronic Benefits Transfer (EBT) card that allows recipients of food stamps to purchase goods using a digital card with a set spending limit, but for a few hours over the weekend, that limit disappeared for many users visiting Walmart stores in Louisiana.
Walmart and local police in Springhill and Mansfield confirmed to CBS affiliate KSLA that officers were called into the stores to help maintain order Saturday as shoppers swept through the aisles at two stores and bought as much as they could carry. Xerox, which hosts some of the infrastructure used by the EBT card system, told KSLA that a power outage during a routine maintenance test caused the temporary glitch that removed the spending limits. And suddenly it was like Christmas in October. Welfare recipients realized this immediately and decided to exploit the mistake for all it's worth, but in doing so they became criminals because they knew they were not entitled to unlimited spending. When the welfare recipients started to exceed their normal limits by thousands of dollars anyone with an IQ above a rock should know it's grand theft! But, Walmart is not blameless either, they helped facilitate the spending spree and legally they could be partly financially responsible too and they should be.
Walmart workers phoned their corporate headquarters to ask how they should handle all the shoppers with unlimited, government-funded spending limits, and were told to keep the registers ringing.
Those welfare recipients who abused this mistake could see their financial aide cut off permanently or until every cent they took has been repaid, but at this time nobody in government has expressed any interest in holding anyone accountable, heck it was just taxpayer's money.
3. No more lead bullets for hunting: The Governor of California has signed into law a bill that prohibits the sale of lead bullets for hunting in CA. Bullets made with a core of steel are already illegal by federal law. There are two kinds of bullets made, those from lead and those from steel. CA gun owners are faced with a conundrum, they can own a firearm as per the 2nd Amendment, but they may not be able to buy bullets for it. "About 95 percent of the ammunition used by hunters in California contains lead. Many metallic bullets are banned by the federal government, and those that are available cost significantly more than lead bullets." washingtontimes.com
4. Barricading for Obama: Government (specifically democrats) has taken it upon themselves to make the current gridlock as painful as possible on the American citizens. They are systematically barricading off roadside turnouts to view Mt. Rushmore as well as park trails, beaches, etc. The National Park Service has gone so far as to erect barricades to shut down parking lots surrounding Mount Vernon, despite the fact that the tourist destination is privately owned! That's right, it's privately owned…the Feds really exposed thier hand with that one!
Mount Vernon is the former plantation of George Washington and is owned by the Mount Vernon Ladies' Association, which doesn't receive any government funding. The attraction's official website reads, "NO SHUTDOWN HERE – The Federal government may be shut down, but Washington's home remains open. Mount Vernon has remained a private non-profit for more than 150 years."