by Jack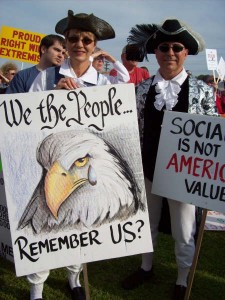 There has been a significant rise in the number of citizens angry over shutdown, the lack of ethics in Washington and how we are being fleeced with taxes and most recently, even by our campaign donations…even they are being abused by greedy legislators.  Seems like there is no one we can trust, both party's have been caught sticking it to us.  An example of this is the slush fund they created called Leadership funds that are actually a loophole that allows Congress to spend campaign money on themselves, from lavish vacations to expensive dinners.  Only one Senator (Vitter-R) proposed legislation to stop this dirty practice and he couldn't even get a co-sponsor! 
A USA Today poll says that about half of Americans feel Congress would be a better place if incumbents were voted out next year.  This polling is similar to the public's views in previous years when voter dismay cost one side or the other control of the House.   In 1994, when Democrats lost their majority, 40% said Congress would be better off if most members were replaced. In 2006, when Republicans lost control, 42% held that view.  Now 47% want to replace both Reps and Dems!   Wonder what that will do come next election?
In 1973 43%  of Americans said they had confidence in Congress – today it's barely 10%.  Revolutions have toppled governments that had better approval numbers!   The Gallop poll said Congress was ranked dead last among 16 institutions.  Dead last?  That's a mandate for change if I ever saw one. 
Joe Kline from Time writes, "Could there be a wave of Independent candidacies in 2014?  Are people so sick of the two existing parties that they're ready to go shopping for something new?"  Yes they are Joe.  People feel their party has left them and gone over to the dark side.  They're mad and they're hurt.
"We're seeing this all over our polling," says Peter Hart, who does surveys for NBC and the Wall Street Journal. "People are sick of the status quo: 60% believe that the entire Congress should be replaced. They're looking for alternatives." 
I've never witnessed more unhappy voters in my life.  Could it be that incumbents in Congress may finally get their just due?  Then I remember that the voters always gripe about Congress – then they turn around re-elect the rascals.   Well, I'm just hoping this time the numbers are so bad that a surge of independents will be voted in and a bunch of incumbents will be voted out, them maybe they will finally start cleaning up the mess the two party-goers have made. 
PS    In CA declined to state is the fastest growing segment of the voter roles.   The chart below shows the republicans are outnumbered almost 2 to 1 and their numbers are dropping as fast as No Preference and Other are gaining.  The GOP is CA is virtually destroyed.
Report Date

Dem

Rep

Other

Preference

 

 

Feb. 10, 2013

43.9%

28.9%

6.3%

20.9%

 

 

Feb. 10, 2011

44.0%

30.9%

4.7%

20.4%

 

 

Feb. 10, 2009

44.5%

31.1%

4.3%

20.0%

 

 

Feb. 10, 2007

42.5%

34.2%

4.5%

18.8%

 

 

Feb. 10, 2005

43.0%

34.5%

4.6%

17.9%