by Jack Lee
 In the past days, weeks and months we've been witness to an unfolding of unlikely events within the democratic party; events that threaten an election disaster for them in 2014. Obama's leadership has been questioned by even bedrock democrats over his corporate bailouts, continuation of Guantanamo, a burgeoning deficit, his illusive foreign policy, those Putin put downs, the Snowden affair, Benghazi bungling, the rampant spying on US citizens by the NSA and even his crown jewel, intended to be his legacy, ObamaCare.
By every measure democrats up for election were losing by their own devices. On the other hand the republicans were merely innocent bystanders, having contributed next to nothing, but avoided controversy, save for sequestration which was handled poorly.
Symptomatic of bad things to come has been a steady exodus of democrat voters that are re-registering as independents or declined to state. It should be noted that republicans have seen some of their numbers diminish too, but for entirely different reasons.  In the latter case ex-pats polled said they still embrace the GOP planks, but it's been their party's lack of conviction to those ideals and the political ineptitude that caused them to leave disillusioned and frustrated. Almost to a man, they're saying we're trying to send a message to their GOP leadership that they need to follow through on our core values and stand firm against growing the deficit.
Despite the internal GOP setbacks, the democrat setbacks have been much greater and their failures seemed destined to hand a victory to the weak knee'd republicans in 2014. All the GOP had to do is be quiet. Let the democrats continue on their path to self destruction and the 2014 elections would be theirs for the taking.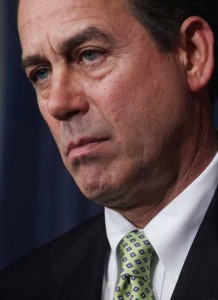 Yes, things looked so good it would take an almost impossible series of foot shooting events to stop that which was all but inevitable. For example, it would take the Speaker of the House, John Boehner, to sell out party principles and side with the democrats on growing the 2014 budget.
He would have to do something absurd like publicly insult the Tea Party republicans and tell them they have lost all credibility and do it in such a way they would turn on him.
Then we would have to have a monumental internal fight to cause a serious divide within the GOP. It would have to spark heated exchanges between the Establishment Republicans and the Tea Party faithful.
Indeed, these would be highly unlikely events, and they are almost preposterous to even consider… yet here we are.
 Today and yesterday, Speaker Boehner called conservative opposition to the bloated budget "ridiculous" and accused certain right-wing groups like the Tea Party of "using the American people." He continued his rant, "I think they're pushing our members in places where they don't want to be. And frankly, I just think that they've lost all credibility." Referring of course to the Tea Party.
 Congressman Tom McClintock expressed the his ire and that of many House republicans, when he wrote today, "The great irony of the Republican decision to bust the budget sequester is that barely two months ago, congressional roles were reversed….Sixty-three billion dollars of new spending – and therefore new taxes in some form – is not a small amount of money. It averages about $570 of added burdens for every family in America."
 The bipartisan budget that has divided the GOP would set funding levels for the next two years. (The House voted it in last night.) The bill would replace parts of sequestration, but effectively increase federal spending by $63 billion! By funding the government into 2015, they thought it would help avoid future fights leading to government shutdowns. McClintock is a Tea Party Republican.
Conservative groups, such as Heritage Action for America, The Club for Growth, FreedomWorks and others, immediately opposed the plan when it was released.
Well, there goes a sure thing for winning in 2014. You just can't make this stuff up folks, it's too incredible.