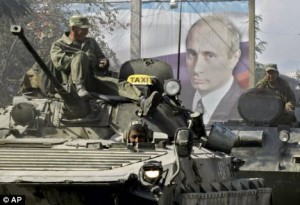 by Jack Lee
Russia's diplomats have assured the United States that Russia has no intention of invading Ukraine. This flies in the face of certain realities, for example Russia recently fomented a coup in the Crimea under the pretext that ethnic Russians in the Crimea were being threatened.  Ethnic Russians do not want to be under Ukraine's control.
The Crimean peninsula is composed of 58% ethnic Russians, 24% Ukrainian and 12% pro-Ukraine Muslim Tartars. In the past year a number of pro-Russian demonstrators classed with police and opposing demonstrators, this resulted in several deaths on both sides.
So, the Russian claim that ethnic Russian's were in danger was essentially true, but it was almost entirely due to the protesting and demands the Crimea succeed from Ukraine.   Imagine the reaction if pro-Mexican protesters demanded California be returned to Mexico. No doubt there would be clashes, but would that give Mexico the right to send troops into California to protect all Spanish speakers?
The administration of Crimea was given to the then Soviet Ukraine in 1954. In 1991 the collapse of the Soviet Union left the Ukraine autonomous and the Crimea went with it. Moscow's hardline communists could not accept this strategic loss and humiliation and they have been seething ever since, but until recently they had no power to do much about it. One of those hardliners was Vladimir Putin, head of the KGB and now President of Russia.
The Crimea pro-Russia dissidents declared themselves independent by a referendum vote with a suspiciously high percentage voting in favor (97.6%) and this was followed by a declaration to be annexed back to Russian control.
However, there was one major obstacle remaining, Russia needed a land bridge to the Crimea in order to sustain annexation.   That land bridge area includes three border cities also with a large Russian population.  Ironically they now claim they are now being oppressed and threatened and desire Russian assistance.    And even more ironic is their area just happens to be abundant with natural gas reserves. Should the region be claimed by Russia it would facilitate an enormously valuable transnational oil pipeline direct to eastern European nations. Was this strategic land grab the real agenda all along?  Is this why Russian agents fomented unrest in the Crimea and now in these three border cities?
Russia has sent 42,000 combat soldiers, several tank divisions and air support to their border with Ukraine under the pretext of military maneuvers. However, maneuvers are generally very short, so why is Russia stockpiling spare parts and why are they also sending in thousands of support personnel?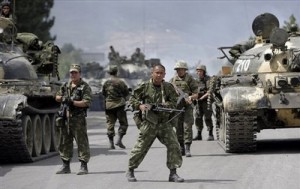 This question has the White House and many European nations concerned, but they have been slow to react. The White House has requested Congress approve a billion dollar loan. In the meanwhile we've sent tons of MRE's to Ukraine, but even that has taken us weeks to ship when they really needed better weapons to defend themselves.
Of course, if Russia does invade after making these profound assurances that they have no military designs on Ukraine they will have no credibility, but I'm not sure this matters.
More irony:  This is a virtual word for word replay of history, it's what Hitler did just before invading Poland. The rational Hitler used in 1939, to protect ethnic Germans.  This is exactly the same as Putin's rational  in 2014, only now it's ethnic Russians.  And here we are with Neville Chamberlain in the White House… this doesn't look good.
What do you think is going to happened next?
_____________________________________________________________________
Les diplomates russes ont assuré aux Etats-Unis que la Russie n'a pas l'intention d'envahir l'Ukraine . Ce va à l'encontre de certaines réalités , par exemple la Russie a récemment fomenté un coup d'Etat en Crimée sous le prétexte que les Russes ethniques en Crimée ont été menacés . Russes ne veulent pas être sous le contrôle de l'Ukraine .
La péninsule de Crimée est composé de 58 % de Russes ethniques , 24 % et 12% ukrainien pro- Ukraine musulmans Tartares . Dans la dernière année, un certain nombre de manifestants pro-russes classées avec la police et des manifestants opposés , ce qui a entraîné plusieurs morts des deux côtés .
Ainsi, la demande russe ethniques de Russie étaient en danger était essentiellement vrai, mais il est presque entièrement attribuable à l' protester et exige la Crimée réussir l'Ukraine. Imaginez la réaction si les manifestants pro – mexicaines ont exigé la Californie est retourné au Mexique . Sans doute il y aurait des affrontements , mais ce que cela donnera au Mexique le droit d'envoyer des troupes en Californie pour protéger tous les hispanophones ?
L'administration de la Crimée a été donnée à l'époque l'Ukraine soviétique en 1954 . En 1991, l' effondrement de l'Union soviétique a laissé Ukraine autonome et la Crimée est allé avec elle . Communistes purs et durs de Moscou ne pouvaient pas accepter cette perte stratégique et de l'humiliation et ils ont été bouillonnante depuis , mais jusqu'à récemment, ils n'avaient pas le pouvoir de faire grand-chose . L'un de ces durs était Vladimir Poutine , chef du KGB et maintenant président de la Russie .
Les Crimée dissidents pro – russes se sont déclarés indépendant par un référendum avec un vote étrangement élevé de pourcentage en faveur ( 97,6 % ) et ont été suivies par une déclaration annexée à revenir au contrôle russe .
Cependant , il y avait un obstacle majeur reste , la Russie avait besoin d'un pont terrestre vers la Crimée afin de soutenir l'annexion. Cette zone de pont terrestre comprend trois villes frontalières aussi avec une grande population russe . Ironiquement , ils affirment maintenant qu'ils sont maintenant opprimés et menacés et désirent l'aide russe . Et encore plus ironique est leur zone se trouve être abondante avec des réserves de gaz naturel . Si la région est réclamé par la Russie elle faciliterait un oléoduc transnational extrêmement précieux directe aux pays d'Europe orientale. Cette terre a été stratégique saisir l'ordre du jour réel tout au long ? Est-ce la raison pour laquelle les agents russes ont fomenté des troubles dans la Crimée et maintenant dans ces trois villes frontalières ?
La Russie a envoyé 42 000 soldats de combat , plusieurs divisions blindées et un appui aérien à la frontière avec l'Ukraine sous le prétexte de manoeuvres militaires . Cependant , les manœuvres sont généralement très courte , alors pourquoi est Russie stockaient des pièces de rechange et pourquoi sont-ils envoient aussi des milliers de personnel de soutien ? Russians989
Cette question a la Maison Blanche et de nombreux pays européens concernés , mais ils ont été lents à réagir . La Maison Blanche a demandé au Congrès d'approuver un prêt d'un milliard de dollars. En attendant, nous avons envoyé des tonnes de MRE à l'Ukraine , mais même ce qui nous a pris des semaines pour expédier quand ils ont vraiment besoin de meilleures armes pour se défendre .
Bien sûr, si la Russie fait envahir après avoir effectué ces assurances profonds qu'ils n'ont pas de conceptions militaires sur l'Ukraine , ils n'ont aucune crédibilité , mais je ne suis pas sûr ce sujet.
Plus ironie : Il s'agit d'un monde virtuel pour mot relecture de l'histoire , c'est ce que Hitler a fait juste avant d'envahir la Pologne . Le Hitler rationnelle utilisée en 1939 , pour protéger les Allemands de souche . C'est exactement la même que Poutine rationnelle en 2014 , seulement maintenant c'est Russes ethniques . Et ici nous sommes avec Neville Chamberlain à la Maison Blanche … cela ne semble pas bon .
Que pensez-vous qui va se qui s'est passé ensuite ?