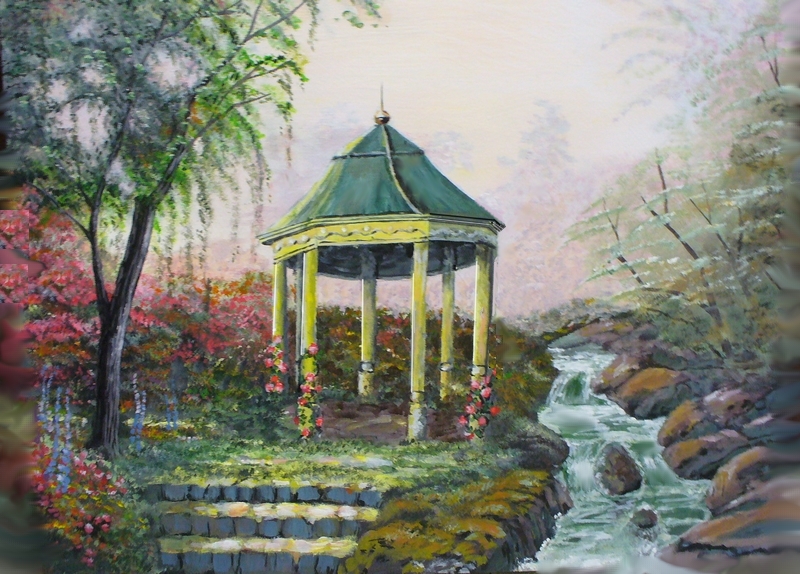 I always like Thomas Kinkaid, even though he was snubbed the elites in the art community. I found what is possibly an early Kincaid or a practice painting done on the back of wood paneling. It was at an estate auction and liked it, so I bought it. It's one of my favorite pieces and it got me thinking, I wonder if I could do a Kinkaid type painting? They're a lot more complex than you might think, especially if they are done in acrylics, because of the layering involved, but this was my only option…so acrylics it was. I wasn't sure how it would come out so I used an old half painted canvas and primed it and started work on my version of Kinkaid at 11 a.m. yesterday. I worked on it until 12:30 a.m. and then again this morning until 12 p.m. Now it's pretty much done. I look at my paintings for days after and sometimes I make minor corrections or fixes, but for now this is close to a finished work.
When I took the picture for the net I had to photo shop some corners because the camera lens gave the edges that fisheye look so I just pulled the colors to the edge…eh, looks ok, but I thought I should mention it if the lower corners looked a little fuzzy.
Any comments are always appreciated, good or bad, doesn't matter as long as they are honest. This is how I learn.